21 May 2012

Couture dress designer Jo Irvine (Strictly Come Dancing, Dancing On Ice & Britain's Got Talent) has created gorgeous dresses for the likes of Lynda Bellingham, Lisa Snowdon and Dawn French proving that age & body shape aside, any woman can look utterly dazzling by following a few simple rules. Jo shares her top tips on how to dress for red carpet success.

Sophistication and elegance are key when creating your red carpet look. To achieve this, choose an outfit that covers the parts of your body you don't like and tastefully enhances those that you do. Dress appropriately for you age to avoid the 'mutton dressed as lamb' look, but no matter how old you are, the key to red carpet success is choosing an outfit that flatters your body shape. The only way to do this is, is to learn what shape that is, and what styles suit it.
Whatever outfit you choose, make sure it reflects your personal style, whether you are classic and chic or bold and bright.
Know Your Shape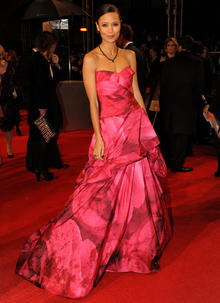 BAFTA/Richard KendalApple: An apple shaped body has a rounded tummy, not much of a waist and full bust. If this is similar to your figure, try dresses that create a waist with ruching or tailoring. Choose something that will drape softly over your tummy to hide it, and nothing too clingy. Often apple shaped women have great legs, so make the most of them and show them off in a knee length cocktail dress. An 'A' line dress that flares from the waist or under the bust is ideal for skimming over the tummy and balancing out a top-heavy frame. A 'V' neckline is also very flattering if you have a large bust, and helps to break it up and elongate the neck and décolletage area.
Pear & Hourglass: The pear and hourglass silhouettes can often be quite similar in shape, with a nipped-in waist, curvy hips, bum and bust. The only difference is the hips and bum of a pear shaped lady are wider than her top half, whereas an hourglass figure is more proportional. Both pear and hourglass shapes should show off their small waists by wearing a belt or a dress that is fitted in at the waist, and flares out, or drapes over the hips. If you are a well-proportioned hourglass shape with a flat tummy you will look fantastic in a fitted, full length dress that shows off your curves. If you are an hourglass with a tummy, try a 1950s style dress with a circle skirt that flares over your hips and tummy, but shows off your waist. If you are a pear shape, go for something fitted on the top that either hangs straight or flares out from the hips to hide them.
Straight: A straight, boyish figure typically has a small bust, small hips, and not much of a waist. If this sounds like you, try to feminise your look by creating the illusion of curves through your clothes. Ruching and draping will work wonders to achieve this, and add a bit of bulk to your chest and hips, especially if belted at the waist. A full length evening dress in a soft, floaty fabric such as chiffon or georgette will elegantly feminise you and add shape to your straight figure.
Complimentary Colours
Once you know what styles will suit you, you need to pick a colour that will compliment your personality and your natural colouring. I personally think that you can never go wrong with navy blue or a fabulous jewel colour, like amethyst purple, ruby red, cobalt blue or emerald green.
If you have a warm skin tone, you will look fantastic in hot or earthy colours and golden shades. Ladies with cool skin tones will look better in cooler colours like blues and greens. If you're not sure, pick a colour that matches or complements your eye colour.
Whatever outfit you choose, make sure it reflects your personal style, whether you are classic and chic or bold and bright. You should feel comfortable in what you are wearing and that is says what you want it to say about you. Do not choose something you feel awkward in or that doesn't fit you properly. You're there to enjoy yourself, not to feel self-conscious! The most important thing is that you have fun!
To find out more about Jo, visit www.joirvinedesigns.com
Red Carpet Success
Scroll through the images below to see stars who got it right at previous British Academy Television Awards. Jo explains why...