26 May 2012
This is the desert the guests to the 2012 BAFTA Television Awards will be eating. Follow the recipe to recreate it at home to serve at your own BAFTA party.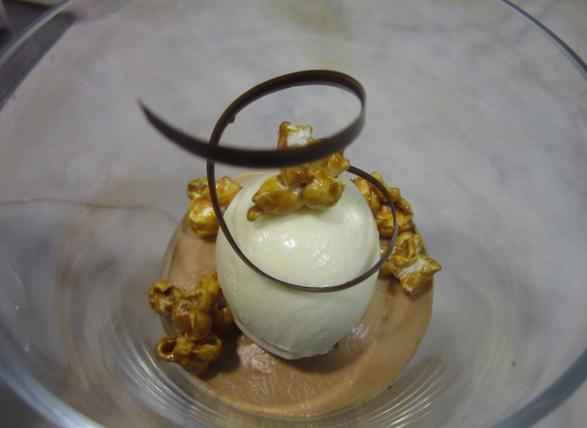 Chocolate Sauce
Ingredients:

45g Cocoa powder
90g Dark chocolate
225ml Water
90g Sugar

Method:

To create the perfect chocolate sauce, begin
by boiling the cocoa, water and sugar together,
and then pour on to the dark chocolate. Whisk
all ingredients together until the mixture is
lovely and smooth and then chill.
!!Chocolate Nemesis Cake
Ingredients:

135g Dark chocolate
2 Eggs
90g Butter
115g Sugar

Method:

For the all important Chocolate Nemesis Cake,
first melt the chocolate and butter together.
Then whisk the eggs and sugar together until
the two form a thick sabayon. Fold this into
your melted chocolate, and then pour the mixture
into a baking tray. Bake at 150°C for 15 minutes.
When ready, it will still be soft to the touch.
Chill and cut into delicate 1cm pieces.
Malt Milk Chocolate Mousse
Ingredients:

200g milk chocolate
4 Yolks
80g Sugar
350ml Double cream
50ml Milk
15g Malt

Method:

To make your mousse, first you need to cook
the sugar with 50ml of water, until it reaches
120°C. Pour the heated sugar on to the egg
yolks and whisk all together until the mixture
is cold. Next, whisk the cream and milk
together to soft peak. Melt the chocolate and
malt together, fold in the sugar sabayon and
then the cream, and there you have your mousse!
Now all that is left is the presentation...
Put it all together...
| | |
| --- | --- |
| To assemble your Malt Milk Chocolate Mousse with Popcorn Sorbet, simply put some chocolate sauce in the bottom of the serving glass, add a few cubes of nemesis cake, and then pipe on the chocolate mousse. Decorate with caramelised popcorn, a scoop of popcorn sorbet and a chocolate garnish and bon appétit. | |