17 May 2012
Stephen Butler
Skin care specialists share secrets on how to prepare your skin so that it looks healthy & glowing for a special night like the BAFTA Television Awards.
Whilst finding the perfect outfit is essential for all BAFTA guests, radiant looking skin is without doubt another fundamental factor to looking utterly show-stopping. Nothing gives that final flush of glamour like a beautifully bronzed complexion that screams sun, sea and relaxation.
But, it's well known that the most damaging thing we can to to our skin is to over expose it to the sun. The long term effects of leaving your skin unprotected under UV rays include skin pigmentation, premature ageing and of course an increased risk of skin cancer.
But avoiding the sun doesn's mean fore-going a gorgeous summer glow. St Tropez has joined forces with BAFTA as our Official Skin Finishing Partner, offering all nominees a high quality spray tan that will ensure flawless head to toe perfection for TV's elite as they walk the red carpet on the 27 May. In this video, St Tropez's skin finishing expert Nichola Joss talks Kate Thornton through the steps to applying the perfect spray tan.
Being red carpet ready means being skin ready
Get the St Tropez glow...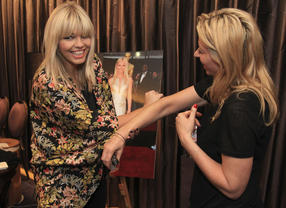 Stephen ButlerA team of leading St. Tropez skin finishing experts will be on call 24/7 over the TV BAFTA weekend, taking up residence in the official TV BAFTA Style Suites at the Corinthia London Hotel or via private appointments held across London. Buffing and prepping skin with a variety of new skin finishing trends created especially for the red carpet.
Nichola Joss explains; "The St. Tropez menu of skin finishing treatments for face and body offers gorgeous skin for people of all skin tones. For example, St. Tropez's Luxe Tan provides a light finish to give an airbrushed look that would be perfect for the Made in Chelsea girls."
St. Tropez's Vintage Glow provides porcelain skin tones with a subtle radiance, especially when finished with the Rose Illuminator ideal for getting the Downton Abbey ladies luminous. All of St. Tropez's Custom Body Finish treatments enhance face and body contours, giving skin a radiant and naturally looking glow."
Skin preparation tips...
Before applying your tan it's important your skin is healthy and well nourished. Nicola recommends first exfoliating the body before before moisturising dry areas thoroughly. Then, spray St. Tropez Self Tan Bronzing Spray or Self Tan Bronzing Mousse using an application mitt. Finally, shower off to reveal a perfectly golden, natural looking tan or glow.
From peels to lifts and light treatments, celebrities try all sorts of methods to ensure their skin looks utterly flawless under the harsh zoom of the camera lens. Milena Petkova is a Skin Therapist at London's EF MediSpa where they frequently treat celebrity clients, offering a variety of skin rejuvenating treatments. We asked Milena for her top tips on how to keep your skin on your face looking fresh and healthy: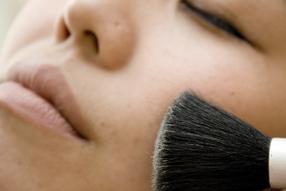 Never use hot water to wash your face. It opens the pores and loosens the skin. Using cold water tightens the skin and keeps the face fresh and clean.
Only cleanse your face once a day. A splash of cold water will suffice in the mornings. Putting excessive products on your skin will only irritate it.
If you suffer from sensitive skin, avoid letting hot water and shampoo run onto your face when showering. Strong shampoos can irritate and dry out the skin.
Eat plenty of vegetables as these will help your body absorb more water. High doses of vitamin C is also a great way to ease the redness of rosacea prone skin.
Avoid using products that contain glycolic acid. This is present in many cosmetic products because of the short term youthful appearance it give to the skin. In the long term however there is much speculation that it may be damaging to the skin.
If you suffer from dry skin, try introducing more oily fish into your diet and consider taking a cod-liver oil food supplement.