19 May 2011
Multi-BAFTA-winner Julian Fellowes gave his expert advice at the most recent BAFTA Rocliffe New Writing Forum. Words by Farah Abushwesha.
Award-winning writer Julian Fellowes commanded the BAFTA Rocliffe New Writing Forum critiquing extracts from the work of three aspiring screenwriters. What a guest he proved to be.
With an established career as an actor, director, producer, screenwriter and novelist, it seems that there is nothing that Julian Fellowes hasn't done, and he can now add to that list patron of the Rocliffe New Writing Forum. In 90 minutes he wooed our audience with his insight and wit and had cheeks hurting from laughing; all were hanging on his every word.
Although thorough in his assessment of each script, our writers took his comments with grace. Julian was no fool or fake. Lord Fellowes was charming and shared clever tips with the eager audience: 'When you send your script to your buddies to read, don't ask them what they think: ask them to mark the script each time they get bored'.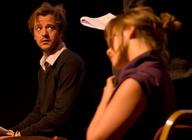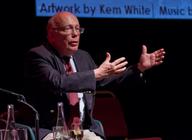 Here was a man with a vast array of skills and knowledge and his thoughts were not to be underestimated.
Following the event the compliments were flowing; the internet was buzzing with favourable comments and reviews. The favourite quip seemed to be 'The best thing about winning an Oscar - which I heartily recommend to everyone...'. When asked why he hasn't acted in something he'd written he described it as 'Neither running with the hare or hunting with the hound'.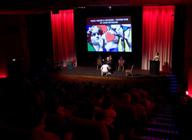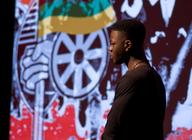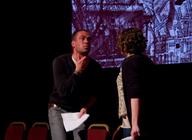 ---