14 May 2014
BAFTA New York/ Seton Davey
This year's BAFTA Rocliffe New Comedy Showcase entries will be judged by a jury of esteemed industry professionals. Find out more...
The jury
| | |
| --- | --- |
| Tom Basden | Writer and actor (Plebs, Fresh meat) |
| Jack Bayles | Producer, Running Bare (The Mimic, Very Important People, Ponderland) |
| Richard Boden | Director of Programes, Delightful Industries and, comedy producer and director (The IT Crowd, Count Arthur Strong, Blackadder Goes Forth) |
| Ben Boyer | Head of Development, Sky Comedy |
| Sam Bryant | BBC Comedy producer (BBC Three Comedy Feeds, News Quiz, I Regress) |
| Ben Caudell | Co-Founder and Creative Director, Zeppotron |
| Kevin Cecil | Writer (Veep, Gangsta Granny, Big Bad World, Black Books, Little Britain) |
| Ri Chakraborty | Creative Director and Executive Producer |
| Jim Field Smith | Director (The Wrong Mans, Episodes) and writer (Fur TV, Death Wish Live) |
| Margot Gavan Duffy | Producer, Tiger Aspect (This is Jinsy, Spy, Little Crackers) |
| Elaine Gracie | Comedy Development, Bonafide Films |
| Anil Gupta | Writer/producer (Citizen Khan, Goodness Gracious Me, The Office) |
| Dan Hine | Head of Comedy, Roughcut TV (Cuckoo, Trollied, Roughcut Presents) |
| Nana Hughes | Comedy Producer, Retort (Count Arthur Strong, PhoneShop, The IT Crowd, Birds of a Feather) |
| Jamie Jay Johnson | Director (Fresh Meat, An Idiot Abroad) |
| Simon Mayhew-Archer | Deveopment producer - television and radio, BBC (Tom Wrigglesworth's Open Return Letter to Richard Branson, The Golden Age, Newsjack) |
| Fiona McDermott | Commissioning Editor - Comedy, Channel 4 |
| Arabella McGuigan | Development Executive - Comedy & Drama, CPL Productions |
| Sam Michell | Producer, BBC (In And Out Of The Kitchen, Nick Helm's Heavy Entertainment) |
| Andrew Newman | Chief Executive, Objective Productions - Jury Chair |
| Caroline Norris | Producer (Horrible Histories, Raised by Wolves, Trying Again) |
| David Quantick | Writer (The Thick of It, Veep, TV Burp, The Rob Brydon Show, The Guest List) |
| Saskia Schuster | Commissioning Editor - Comedy, Sky |
| Chris Sussman | Executive Editor - Comedy Commissioning, BBC |
| Mark Talbot | Producer, Hat Trick Productions (The Revolution Will Be Televised) |
| Sam Ward | Producer, Big Talk Productions (Threesome) |
!!BAFTA Rocliffe New Comedy Showcase in New York and Edinburgh
In August the BAFTA Rocliffe New Comedy Showcase returns to the Guardian Edinburgh International Television Festival (GEITF) for a second year. In October it will return to the New York Television Festival (NYTVF) for a fourth consecutive year.
BAFTA, with its branches in New York and in Scotland, and Rocliffe, are offering this opportunity in partnership with British Airways, GEITF and the NYTVF, and the chosen writers will receive:
• A BAFTA Rocliffe New Comedy Showcase featuring professional actors performing their work in front of an industry audience at GEITF or the NYTVF. Audience members across the festivals will include representatives from BBC, Channel 4, ITV, Sky, Comedy Central, Sky, FOX, FX, VH1, MTV, IFC and major independent production companies;
• Feedback during the event from top television industry guests – gaining vital tips and encouragement. The 2013 NYTVF/BAFTA New York event was chaired by Greg Daniels (The Office, Parks and Recreation)
• One-to-one development mentoring sessions by top UK and US comedy commissioners and independent production companies
Last year's winning writers have built on their BAFTA Rocliffe success to develop their careers in the industry. Examples include writing pair Tony Cooke and Brona C. Titley whose script Nannies was showcased in New York in 2013 and has since been optioned by a UK production company. Writing pair Andrea Hubert and Ryan Cull, whose script, The Sickness, was showcased in Edinburgh last year, were offered a BBC development deal. They are currently working on a new sitcom as part of a development deal with Objective Productions.
---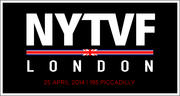 ---