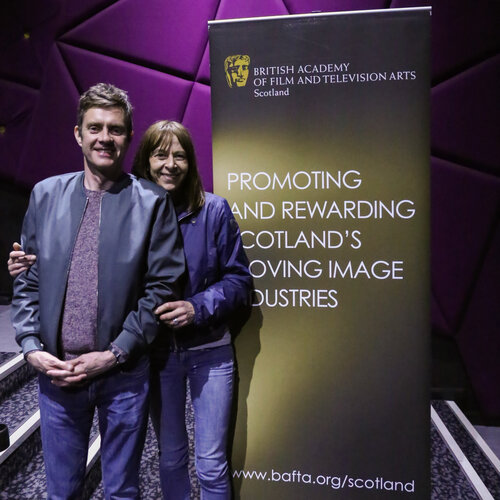 BAFTA/Kat BranickaOur learning and events programme aims to provide a platform for BAFTA members, award winners and nominees to share their expertise, debate and discuss creative excellence. We work with a number of partners who help us to achieve our aims.
So far in 2016 our events highlights have included:
BAFTA Scotland Spotlight on Game: Distant Star Revenant Fleet
BAFTA Scotland Masterclass: Make-Up Design with Christine Cant
BAFTA Scotland TV Preview: Two Doors Down + Q&A
BAFTA Scotland Screening: Couple in a Hole + Q&A with actors Kate Dickie and Paul Higgins
BAFTA Scotland Career Close-Ups: Directing with Brian Kelly, Producing Factual with Sarah Howitt, Editing with Bill Gill, Game Development with Colin Anderson and Screenwriting with Louise Ironside.
BAFTA Scotland Intro to BBC Scotland (for New Talent Nominees and Career Starter members)
BAFTA Scotland Presents: The Ups & Downs of Life online with Vloggers Charlie McDonnell, Emily Diana Ruth and Scola Dondo. 
BAFTA Scotland Presents: The Art of Foley with Pete Burgis
BAFTA Scotland Presents: Blurring the Line - Derren Brown's Ghost Train at Resonate Festival
BAFTA Scotland Screening: Swallows & Amazons + Q&A with screenwriter Andrea Gibb.
Our 2015 highlights include:
BAFTA Scotland Masterclass: Acting for camera with Kevin Guthrie 
BAFTA Scotland Masterclass: Composing for Film with Jocelyn Pook
BAFTA Scotland Preview: 'Jekyll & Hyde' + Q&A with writer Charlie Higson and Director of Drama at ITV Studios Francis Hopkinson
BAFTA Scotland Masterclass: Television Drama with 'True Detective' producer Richard Brown
BAFTA Scotland and FTA Scotland preview screening of Prison: First & Last 24 Hours + Q&A with executive producer Mick McAvoy and series producer Louise Say.
BAFTA Scotland Interview with showrunner and scriptwriter Ron Moore
BAFTA Scotland and Into Film Masterclass: Making the Cut with director John MacLean and cinematographer Fabian Wagner 
BAFTA Scotland preview of 'Sunset Song' + Q&A with actors Kevin Guthrie and Agyness Deyn and director Terence Davies
BAFTA Scotland Masterclass: The Making of 'The Hunt' with cinematographer John Aitchison and assistant producer Mandi Stark. 
BAFTA events provide a great opportunity to meet other people working in the industry and develop valuable relationships.