8 January 2019

Got a few credits under your belt? Planning your next steps in film/TV/games? Apply for the Guru Live Glasgow Access Pass + get bespoke 1-2-1s, round tables + panels + networking + careers advice!

Guru Live Glasgow is a one day festival aimed at helping up-and-coming film, tv and games talent get to the next stage in their career. Following the success of 2018's access pass, BAFTA Scotland are running the programme again to offer selected applicants tailored 1-2-1s, CV workshops, and round tables with top industry talent, as well as unlimited access to the full public programme of events.  Guru Live Glasgow 2019 will be held at The Lighthouse on Saturday 30 March. 

The Guru Live Access Pass is an excellent way to make connections, gain insight into the industry, and to help launch your career. 
Gaining an access pass has been an unforgettable experience, being a part of it has opened so many doors for me and really helped to launch my career in the AD department. I kept in close contact with both my mentors and have had the best of years so far!

Through both Tommy (Gormley) and Douglas (Mackinnon), the past year has been a game changer for me, I am making to steps to move up from being a runner to a 3rd AD and have gained many contacts who I now work with regularly.

Much of what I have gained has been thanks to Guru Live and I am extremely grateful for the opportunity! I cannot recommend it any higher to those who are interested in applying and advise making the absolute most of any chances that come up

- Danielle Scott, Access Pass Holder 2018
To be eligible you must:
Be based in Scotland and be available in Glasgow on Saturday 30 March 2019
Have up to two years industry experience or be a student in your graduation year on a film, games or television course
What you get:
1-2-1 meetings and roundtables with top industry talent, tailored to match your experience and interest, & CV workshops
Access to the main Guru Live programme of events including keynotes, panels and masterclasses
Networking reception with peers in film, television and games
What it costs:

Application is free, if selected the Access Pass is just £20! (a limited number of hardship bursaries are available for travel)
How to apply:

Complete our online form + tell us about your experience so far
Application deadline:

Thursday 31 January 2019, 5pm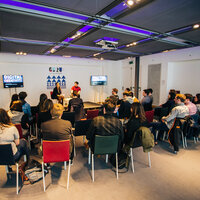 BAFTA/Vincenzo Severino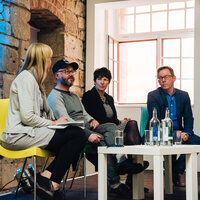 BAFTA/Vincenzo Severino
BAFTA/Vincenzo Severino