5 November 2017

The British Academy of Film and Television Arts in Scotland, BAFTA Scotland, has announced the winners of this year's British Academy Scotland Awards at a glamorous red carpet ceremony at Glasgow's Radisson Blu Hotel this evening. 

Hosted by Edith Bowman, the Awards celebrated the very best in film, television and games produced over the last year in Scotland, with Caitriona Balfe, Sam Heughan, David Hayman, Peter Capaldi and Sir Chris Hoy among the sterling list of presenters handing out the coveted awards on the night.

The award for Outstanding Contribution to Film and Television went to Armando Iannucci, the multi BAFTA-winning writer, producer, director and political satirist. Peter Capaldi presented Armando with his award, along with video tributes from his colleagues Steve Coogan, Rebecca Front, David Schneider and Michael Palin.

Iannucci's award was one of two special recognitions given on the evening, with cameraman Doug Allan being honoured for his Outstanding Contribution to Craft (In Memory of Robert McCann). His impressive career has seen him work on more than 65 productions over 30 years in the industry. Blue Plant producer Alastair Fothergill presented Doug with the prestigious award, alongside a video message from Sir David Attenborough.

In the competitive categories, T2 Trainspotting was the night's biggest winner, picking up three awards in all the categories in which it was nominated: for Ewen Bremner for Actor Film, Danny Boyle for Director – Fiction and for Feature Film.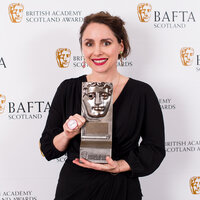 BAFTA/Andy Buchanan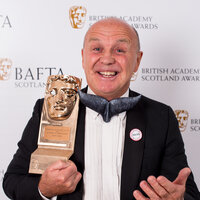 BAFTA/Andy Buchanan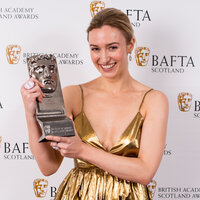 BAFTA/Andy Buchanan
The Dark Mile's Deirdre Mullins triumphed to win this year's Actress Film award.  Mark Bonnar received the Actor Television award for his role in Unforgotten, while Laura Fraser won this year's Actress Television award for her performance in The Missing.
The Replacement triumphed in the Television Scripted category, beating off competition from In Plain Sight and Two Doors Down.
It was another night of celebration for Ross Hogg, who picked up the Animation award for Life Cycles. Hogg has been honoured by BAFTA Scotland before - having been nominated five times in the past five years, he scooped his first award last year for his work on Short Film, Isabella.
Entertainment saw All Round To Mrs Brown's finish ahead of The Dog Ate My Homework and Robot Wars. 
BAFTA Breakthrough Brit Hope Dickson Leach won the Writer Film/Television category for The Levelling, beating off competition from Joe Ahearne and Simon Carlyle and Gregor Sharp. And 2016 BAFTA Breakthrough Brit Jon McKellan is part of the winning team in the Game category for Stories Untold.
Other winners on the night included The Inescapable Arrival of Lazlo Petushki for Short Film, Eòrpa Special – Guantanamo Detainees for Current Affairs, The Council for Features & Factual Series, Louise Lockwood for Director – Factual (Fair Isle: Living on the Edge), Glasgow 1967: The Lisbon Lions for Single Documentary, The Marvellous World of Roald Dahl in the Specialist Factual category.
Jude MacLaverty, Director of BAFTA Scotland, said:
It has been a superb evening and this year's impressive list of winners and nominees highlight the wealth of talent we have here in Scotland's film, television and games industries. We're thrilled to celebrate the inspiring work that's going on in Scotland, and the fact that so much Scottish talent is being recognised internationally in the moving industries. We offer our warmest congratulations to all our worthy winners.