Meet the BAFTA Scotland team who are based in Glasgow
Jude MacLaverty - Director
Jude MacLaverty has worked for BAFTA Scotland in different roles since 2004.  Firstly as a freelance events organiser, then as Awards co-ordinator prior to becoming Director in 2011.  Jude graduated from Edinburgh College of Art with a degree in Fine Art however whilst studying she worked in the Cameo, an independent art house cinema which introduced her to the inspiring world of contemporary film, world cinema and classic double bills.  Jude also worked in the Traverse Theatre, Scotland's New Writing Theatre and The List Magazine.  Prior to BAFTA Scotland, Jude was previously the Director of the Celtic Media Festival, an annual peripatetic 3 day event that promotes the languages and cultures of the Celtic Nations and Regions in television, radio, film and digital media.
---
Beverley McMillan - Learning & Events Producer 
Following university Beverley started her career as a researcher at BBC Radio Scotland on The Fred MacAulay Show and On and Off the Ball before moving on to become a freelance production co-ordinator in the Scottish film industry.  In 2002, Beverley joined Glasgow Film Office as Film Liaison Officer before moving up the ranks and taking on various positions including Business Services Executive, Marketing Executive and finally heading up the office as Acting Film Commissioner.
Beverley joined BAFTA Scotland in 2013 as Learning and Events Producer where she works on a programme of events for BAFTA Scotland members, industry practitioners and emerging talent.
---
Jenna Cunningham - Awards Manager 
Jenna joined BAFTA Scotland in 2009 and has worked in various roles since then, including as Events Co-ordinator, Awards Co-ordinator and Production Manager.  During this time Jenna also worked on a freelance basis as Events Manager at the Edinburgh International Film Festival. Jenna has a BA (hons) degree in Film and Media Studies and has also worked at the Filmhouse Cinema, Edinburgh International Book Festival and Celtic Media Festival. 
Jenna became Awards Manager at BAFTA Scotland in August 2014.
---
Emma Nicholson - Membership & Events Coordinator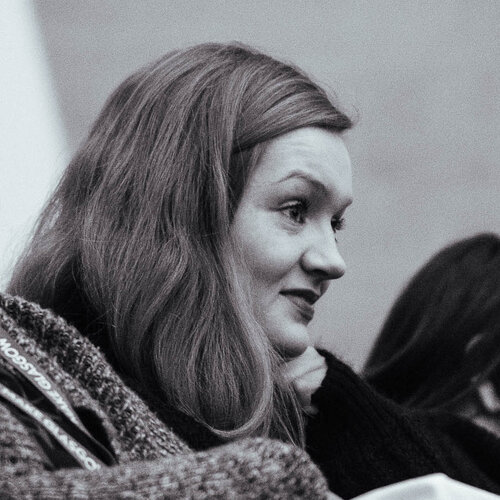 BAFTA/Carlo Paloni
​Emma moved from Northern Ireland to Glasgow in 2011 to study English Literature and Film & Television at The University of Glasgow, where she gained a first class honours degree. During her time at university, she wrote for the music section of The Glasgow Journal, was a research interviewer for The Times Final Year Student Survey and was Communications Assistant at The Glasgow Film Festival. After graduating in June 2015, she completed an internship with IWC Media, where she gained experience in production co-ordination, development and casting.
She joined BAFTA Scotland in October 2015 and co-ordinates membership, events and web content as well as assisting with the British Academy Scotland Awards.