8 June 2011
The Film Festival FROM BRITAIN WITH LOVE continues throughout the month.
The week long festival of films from the UK called FROM BRITAIN WITH LOVE is now running at Lincoln Center and the iFC, From Britain With Love
The film on the opening night was TOAST, about the childhood of the British chef, Nigel Slater. Director S J Clarkson participated in a Q&A following the screening.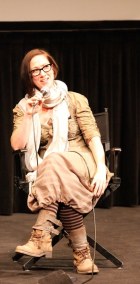 Andrew Levengood
This premiere was part of the opening week celebrations for the newly expanded Lincoln Center. These films are all new to the US and we are hearing great reports about them.
BAFTA NEW York is a proud partner in this Festival
Go to www.frombritainwithlove.org to learn more about this Festival and
see which other films will be playing this month.
For screenings at The Walter Reade Theatre at Lincoln Centre, BAFTA New York members can get a $3 discount at the box office with their BAFTA New York card and online at
www.filmlinc.com/films/series/from-britain-with-love]From Britain With Love and select
Affiliate Admission.
For Screenings at the IFC ticket scan be bought online at
www.ifccenter.com/series/from-britain-with-love - but the $3 discount is only available on box office purchases in person, with your BAFTA New York card.
Here's the schedule:
TOAST
Sunday, June 19, 11 AM, IFC Center
IN OUR NAME
Saturday, June 25, 11 AM, IFC Center
AFRICA UNITED
Sunday, June 26, 11 AM, IFC Center
THIRD STAR
Monday, June 20, 8 PM, IFC Center
Saturday, June 25, 11 AM, Walter Reade Theater
NEDS
Thursday, June 23, 8 PM, IFC Center
Saturday, July 2, 11 AM, Walter Reade Theater
A BOY CALLED DAD
Monday, June 27, 6 PM, IFC Center
Saturday, July 9, 11 AM, Walter Reade Theater