18 June 2013
BAFTA New York looks at the challenges facing traditional television....and asks is this the end?
The End of TV As We Know It...
BAFTA New York presented a timely and fascinating analysis into the challenges facing television producers as so called millennials desert pay TV and get their entertainment online, via tablet, computer or smartphone. Excellently moderated by media executive Jacqui Moore, a rapt audience at the French Institute heard presentations from Phil Groman of the Tisch School of Arts at NYU, partly funded by a BAFTA scholarship, and from Doug Scott, President of Ogilvy Entertainment.
It is not the end of TV but it is the end of TV as we know it. TV is simply being re-defined and with that, as a Producer, the opportunities in this evolving media landscape are boundless.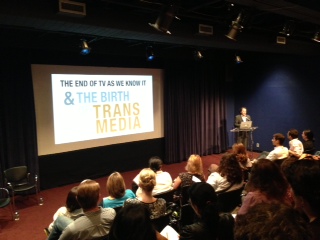 We learned from Doug that while the platforms for distribution may be evolving there is one constant, the story. This introduces us to the concept of transmedia. An approach to story telling that makes us consider how we make them immersive, interactive, integrated and impactful. As audiences look deeper into content this gives us more opportunity to engage with them. We learned from Phil that conversation is king, supporting a transmedia approach where content is no longer one-way and passive.
The huge TVs in our lounges are unlikely to disappear thanks to huge swathes of the viewing population suffering from FOMO (Fear Of Missing Out). There will always be an audience engaging with 'appointment-to-view' television such as live news, events (sports and award shows) and special events (such as the season finale of a popular drama or conclusion of a reality show). The FOMO audience are engaged, as they want to be part of the conversation. Social media is their new water-cooler.
So, as a Producer, where are these opportunities? Here are just a few:
Increased commissioning outlets with new platforms such as Amazon Studios (Netflix) or directly with brands 
New business models focusing more on partnerships and greater retention of IP
Increased distribution opportunities for existing inventory, for example to library services (such as Hulu and Netflix), web TV channels and mobile content providers
For channel owners new distribution platforms in 'over-the-air' broadband services (such as Aereo, Intel and Apple) that are proposing to offer TV channels a la carte
Monetizing existing archive through optimising or re-purposing it for specific platforms.  For example, selling micro-content (single episodes or programs) via your own website or channel (a model currently being used by MTV UK)