15 June 2011
David Harrow
Patrick Connolly reviews a 'thought-provoking BAFTA panel - "PBS Under Threat: Public Service in a Changing Media World."
This oft-quoted PBS catchphrase was used quite often at BAFTA New York's thought-provoking panel "PBS Under Threat: Public Service in a Changing Media World." Produced by the Television Committee, the evening had much controversy, conversation, contention and conviviality. And wine.  Held at Scandinavia House on Central Park South, it was quite the evening. 
A great panel begins with great panelists and there were four of them for this event: 
Paula Apsell, Senior Executive Producer of Nova and Nova Science Now, and Director of the WGBH Science Unit.
Ric Burns the acclaimed documentarian, best known for his eight part documentary film New York and numerous other award wining programs, particularly for American Experience.
Chris Carr Senior Vice President, Channel Operations at BBC Worldwide America, but has lived most of his life in the UK where public service broadcasting is a cornerstone of popular culture.
Stephen Segaller  Vice President Programming at Thirteen and WLIW 21, including Nature and American Masters,but also created journalistic doc series like Wide Angle and Expose.
The Chair of the Television Committee, Charles Tremayne, was an excellent and well-prepared moderator. He kept the evening moving and the conversation lively. 
Much of the discussion was centered on PBS and its need for more funding to continue to make quality programming while wanting to spend less time fundraising and arguing for its existence.But with 354 member stations across the US and often two or three stations serving the same market perhaps the business model is a fair target for criticism. 
Ric Burns called PBS the Central Park of television meaning it is zoned to be protected and not bulldozed and built over.
But with cries of elitism and its audience skewing older is it still a relevant institution in its present state?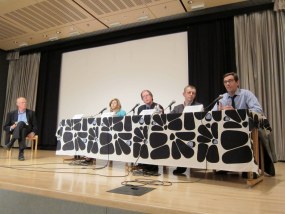 What one wants in a panel is a good, lively discussion - cracking dialogue and not sycophancy. Once Charles opened it up to the audience there was some good questions and comments by BAFTA members.  Suggestions of aforementioned elitism were raised.   The notion of quality of productions with smaller budgets on commercial networks being just as good as what PBS is delivering was also discussed. 
If anything there should have been more time for questions from the audience.  But thanks to the panelists and our moderator and the wonderful attention and attendance by BAFTA members and their friends this event turned out to be one of the hits of the season so far.  The reception afterwards was packed and people seemed to be engaged and mingling with plenty to discuss.