27 July 2017

BAFTA Los Angeles is proud to introduce the current participants of our Newcomers Program.

The BAFTA Los Angeles Newcomers Program offers UK professionals and students a supportive hand during the early stages of their careers in the US. The program is aimed at UK industry professionals and students who work in or study film or television and have recently moved to Los Angeles.
Participants of the 2017/18 Program:
---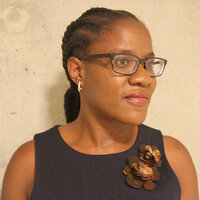 Abby Ajayi
Abby Ajayi graduated from Oxford University with a Law degree and began her career working in script development at the BBC. She has written for several British TV series, including Eastenders, Casualty, Holby City and Hollyoaks. Abby was a Fulbright Scholar at the New York Film Academy where she studied screenwriting. She is now primarily based in Los Angeles and is on the writing staff of the ABC/Shondaland production How To Get Away With Murder.
Abby is represented by The Gersh Agency in the U.S. and 42 Management in the U.K.
---
Carina Birrell
Raised in Glasgow, Carina trained at the Italia Conti Academy, London. She was awarded Best Actress at the 2015 British Horror Film Awards for her performance in the psychological thriller, Wandering Rose. She starred in two British feature films due for release later this year. Carina is also co-producing an archive documentary feature with Scottish BAFTA winner, Matthew Pinder and the support of BBC Scotland, as well as, having a feature film in early stages of development, and recently writing, producing and starring in comedy sketch LA Girlfriend for We Like Laughter. She is very excited to be in LA, and extremely grateful to be a part of the BAFTA community here.
---
Andrew Blackburn
Writer & Director Andrew Blackburn trained on Isle of Man Film's Production course before moving to London at 19 to begin a career directing commercials. His ability to capture natural and authentic performances has led to global TV campaigns for Kellogg's, Pampers, Nestle and Fisher Price amongst many others. His debut feature film Being Nice, a comedy-drama set in an advertising agency, was released in November 2014. He moved to Los Angeles in February 2015.
---
Marcus Chan
Born and raised in Hong Kong, Marcus was a real estate financing solicitor for over a decade at several international law firms including Clifford Chance and Slaughter and May. He joined the UCLA MFA film directing program in 2012 and has since directed several short films showcased in various film festivals, as well as internet spots for Cirque du Soleil. He is about to finish his UCLA thesis film, which is executive produced by James Franco's Rabbit Bandini Productions and features BAFTA winner, Whoopi Goldberg. Marcus currently splits his time between feature and short film editing and is developing his own web series that explores diversity in Hollywood.
---
Sisi Cronin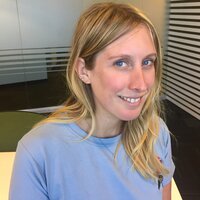 Raised in London, Sisi studied at Goldsmiths and began her career in Film Publicity at Revolver Entertainment. In 2012, she pursued a freelance career leading projects for clients including Warner Bros., Universal Pictures, StudioCanal, Secret Cinema and Content Media before establishing her boutique agency Sicily Publicity. Now based in Los Angeles, Sisi and her team lead publicity, social media and grassroots marketing campaigns for independent films, documentaries, festivals and events. 
---
Menik Gooneratne
Born in London, Menik travelled the world as a child with her father's work on climate change. As an adult, Menik still forgets to switch off the lights when she leaves the house. Menik's passion for acting began in a Papua New Guinean kindergarten where she was cast as "Wild Boar"- the most coveted role in the Easter play. Catch her next in the Dev Patel feature Lion (she does not play the actual lion).
---
Ben Gutteridge
Ben has directed advertising in various countries for brands from Prada to Volvo and primetime TV drama for the BBC and Channel 4. As Writer/Director, he's had shorts in major festivals, been selected for international schemes both as participant and juror and has various feature film and TV drama projects in active development. He also won the Shore Scripts Fund 2017.
He's represented by Grandview in the US and Independent Talent in the UK.
---
Heather Harris
Heather Harris was born and raised in the Cayman Islands. She began her entertainment career working on Lionsgate's The Hunger Games: Catching Fire (2013) while earning her undergraduate degree at New York University. Over the past few years, Heather has worked in television production for numerous entertainment labels, including Nickelodeon and MTV Networks. Heather currently resides in Los Angeles where she studies directing at USC's School of Cinematic Arts.
---
Guy Hepworth
Guy is a product manager, entrepreneur and actor with extensive experience in the technology and entertainment industries. Originally from Aberdeen, Scotland, Guy recently moved to LA to work for Hulu where he is combining his passion for technology and entertainment to help redefine the television experience through emerging technologies. Guy is truly honored to be part of the BAFTA LA Newcomers Program.
---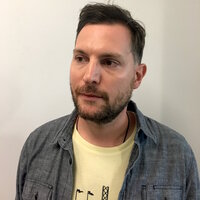 Nick Horton
Nick is a Development Producer working in scripted and unscripted. He's developed TV shows broadcast on the BBC, BBC America, ITV, Channel 4, Sky, and Discovery; including Our Dancing Town and Poaching Wars with Tom Hardy. Passionate about digital, he's worked on branded content for Porsche and Formula E, as well as directing for the Bear Grylls Adventure Channel. Nick's also a writer, regularly contributing to popular film website Den of Geek, as well as a creating a comedy series currently in development with a US digital network. 
---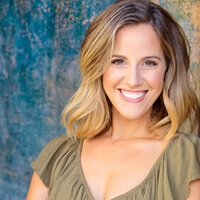 Louise Houghton
Louise is an actress, TV Host, Broadcast Journalist & Producer. After just 6 months in LA, Louise has been cast in two movies, can be seen hosting Balcony TV LA and has a screenplay in development that is based on a book. Louise also continues to work with DWTV, an international broadcaster that she's hosted for over the last 6 years. She can also be seen as the host/MC to many live events, press conferences and award ceremonies.
---
Ruaraidh Hunter
Hunter originates from Edinburgh, Scotland but has spent the past 13 years in London. He joined the UTA Agent Training Program a year ago having worked as an assistant agent for two years at the London-based theatrical talent agency Sally Hope Associates. The agency focused on UK theatre, film & TV representing talent and creatives. Before moving into entertainment he enjoyed successful careers in classical music, as a marketing and events director of a non-profit orchestra, and luxury fashion as a press and PR officer of a high-end French brand. He graduated with a BA (Hons) and Masters in History of Art and History of Costume respectively from the Courtauld Institute of Art.
---
Anna Jones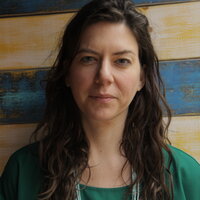 Born in London, Anna studied at Cambridge and the Yale School of Drama before moving to New York to begin a theatre directing career. She focused on new work in both New York and London, directing premieres by Stella Feehily, Alena Smith and Tarell McCraney among others, as well as directing her own devised productions and adaptations. 
Anna made a move into making work for the screen several years ago, and has directed numerous short films, recently working on separate projects with Olympia Dukakis and Harry Enfield. She co-created and directed acclaimed web series My America, which has played at festivals worldwide, including the LA Film Festival. She is based between LA and London; and repped in London by Independent Talent.
---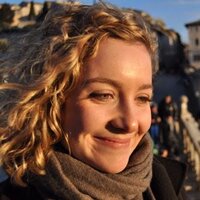 Kitty Kaletsky
Kitty began her filmmaking career as assistant to producers Elizabeth Karlsen and Stephen Woolley at Number 9 Films in London. In 2013, she moved to head up the development department at new UK production company Archery Pictures, and in 2015, Kitty co-founded production company Midnight Road Entertainment in Los Angeles with Vincent Sieber. MRE is now developing multiple projects including The Killing Kind by John-Michael Powell, shooting in Autumn 2017, starring Aaron Paul and Jane Lynch, exec-produced by Mark Gordon, Shore, written by Melissa Iqbal, being financed and sold by Bankside Films in London, and to be directed by Chanya Button and the next in the Narnia series, 'The Silver Chair', among many others. 
In her life before film, Kitty was a journalist at The Economist in NYC and worked on the 2008 Obama Campaign.
---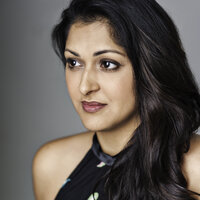 Sohm Kapila
Sohm Kapila was born in India, raised in Nottingham, trained at Italia Conti London with a BA Hons in Meisner Acting and now living in LA with her East Midland roots at heart.
Sohm has been acting since the age of 14 and has just appeared in the blockbuster The Mummy and the Hollywood Fringe Festival. She has also written and produced her own work with her recent film The Problem with Kaldeep, a short on mental health, selected for the London Indian Film Festival 2017 and continues to create and collaborate with artists from the UK and US. 
From Film and TV to the WestEnd, to Animation and Radio Soaps, Sohm has been involved in a variety of projects, including work for NBC, Universal Pictures, BBC, ITV, Pathé, Sonia Friedman Productions, and the BBC Asian Network. 
http://www.imdb.com/name/nm1705074
---
Gavin Laing
Gavin is an award-winning filmmaker from Edinburgh, Scotland, currently enrolled on the Peter Stark Producing Program at the University of Southern California. Gavin earned his undergraduate degree in Digital Film & Television from the Royal Conservatoire of Scotland, and his graduation short film My First Spellbook achieved success at the Royal Television Society Awards. He has recently worked across a number of productions for the BBC, including several BAFTA award-winning children's titles. 
---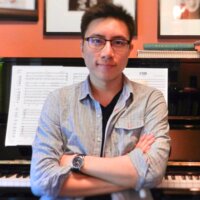 Peter Lam
Born in Hong Kong and musically-trained in London, Peter Lam is a Los Angeles-based composer for film and television. He has composed for over forty film projects and his works have been screened at major film festivals such as Cannes, Palm Springs, Vancouver, Aspen, and Clermont-Ferrand. Others credits include additional music for various Lifetime and Bravo shows, and work for composer Kevin Kiner (Jane the Virgin, Star Wars: Rebels). Peter is graduate of the film scoring program at the University of Southern California, supported by the BAFTA Los Angeles Scholarship.
---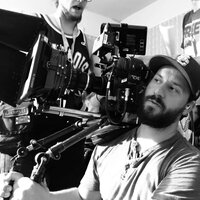 Adam Linzey
Adam is an award-winning writer, director and cinematographer. He grew up in Oxford and​ is a recent MFA graduate of USC's School of Cinematic Arts, where he was an Annenberg Fellow. Adam has written and​ directed numerous short films, which have played at festivals worldwide. He directed the third series of Sofia's Diary, a web-series produced by Sony. His recent work includes; directing the USC/James Franco feature film The Mad Whale, starring Camilla Belle, Dominic Rains and James Franco, shooting commercials for Noosa Yoghurt, working on a documentary about veterans in rural Northern California, as well as writing a number of screenplays including his first pilot. He is delighted to be joining the BAFTA community. 
---
James Longman
James is a Supervising Producer on The Late Late Show with James Corden, developing and producing ideas for the show on a daily basis. He started life at MTV, before producing comedy shows such as The Friday Night Project, The Rob Brydon Show, Never Mind The Buzzcocks and Alan Carr: Chatty Man. He co-hosts an award winning West Ham podcast and also produced a short film, FestEvil, which screened at the prestigious BFI London Film Festival and is currently developing the feature version.
---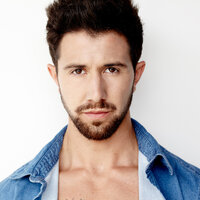 Luca Malacrino
The Welsh Italian artist began training at the age of 19 with the Actors Workshop in his hometown of Cardiff, Wales. Since graduating from The American Musical & Dramatic Academy in Los Angeles, Luca has worked with Francis Ford Coppola in addition to starring on Grey's Anatomy and Criminal Minds, where he played alongside Paul Sorvino.
He is currently set to star in his first feature film, a romantic dramedy due out in 2018. 
---
Gary McMonnies
Gary has been working in the Art Department of Film and TV since graduating from Wimbledon School of Art in 2005.  After doing internships on Atonement, and Harry Potter and The Half Blood Prince, he worked in South Africa on projects like Black Sails for Starz.  He is currently based in Los Angeles and has recently finished working on Season 1 of Mindhunter for Netflix. He is looking forward to being part of the BAFTA community.
---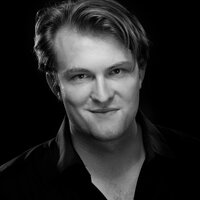 James McNamara
James McNamara studied English at Oxford and screenwriting at AFTRS before moving to LA. He is currently a writer on a new television drama produced by Matchbox Pictures / NBC Universal for Foxtel. Other work includes comedy and drama writers rooms for the Academy Award-winning See-Saw Films, ABC, Porchlight Films, Endemol Shine, and in feature film development for Icon Films. For the theater, James co-wrote Radio With Pictures, which played at the Sydney Opera House.
---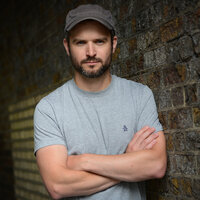 James McWilliam
James McWilliam is a composer and orchestral arranger from London. Work includes original music for features The Patrol (Raindance 'Film Of The Festival'), Born of War (Lionsgate), Don't Look Down (C4/Firecracker Films) and Tronji (BBC/Ragdoll).  London Symphony, a new silent film accompanied by James' original score premiered at EIFF in June 2017 where it was nominated for 'Best British Feature Film'.  Upcoming projects include the feature film Close (West End Films) starring Noomi Rapace.
---
Alex Polunin
Alex Polunin is an EU-funded British-Australian BAFTA Newcomer who specialises in the adaptation of high-end drama and literary material for international markets. Having graduated from University College London on the Dean's List as a published Hobbes Memorial Scholar, Alex was a recipient of the BAFTA Los Angeles Scholarship, pursuing his industry training at the University of Southern California - before going on to work on the development and production of content with the BFI, Film4, the BBC, BBC Worldwide, ITV Studios, Working Title Films, and Company Pictures in both London and Los Angeles. Alex's latest film, British by the Grace of God, starring Kate Dickie (Prometheus; Game of Thrones; London Spy; The Witch) will be premiering at the Festival del Film Locarno, Switzerland, in August 2017. 
---
Nicola Posener
Actress, Nicola Posener began her career starring in series' for Disney Channel & Nickelodeon UK as well as BBC & ITV episodic. Nicola moved to LA having booked a lead in the fantasy film series Mythica shooting the five feature films back to back. Nicola has since gone on to be cast as the American lead in The Best Man for the Lifetime Movie Network as well as the six-episode mini-series Age of the Living Dead. Currently, Nicola is filming the lead role in the action/adventure film Angels Fallen shooting on location in Macedonia.
---
Emily Rice
Originally from the London suburb of Harrow, Emily is a British composer for film, TV and games. She completed the Scoring for Motion Pictures and Television program at the University of Southern California where she studied and mentored under industry greats and was supported by a BAFTA LA scholarship. Her scores can be heard on numerous films, and she has recorded and conducted her work at Warner Brothers and Capitol Records. Other credits include work with composers Laura Karpman (Underground), and Brian Tyler (Avengers: Age of Ultron). Emily is delighted to have been selected as a BAFTA Newcomer, and you can find out more about her work by visiting the links below:
---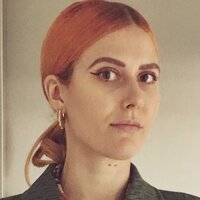 Alicia Sadler
Geographically an Essex girl, Alicia moved to London as soon as she realized Essex wasn't big enough. Inspired by the people and its creative surroundings, she settled in nowhere else but East London's creative cave of Hackney. As with anything a change of wind, she had a new calling. Now in her adopted home of Los Angeles she is at the very start of her new adventures. 
Adventurist, vigilante, realistic dreamer. 
Creator. Curious. 
---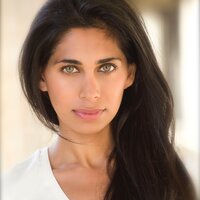 Fagun Thakrar
Fagun Thakrar is an actress, director, producer and activist. Fagun currently stars in the 2018 feature film Basmati Blues, opposite BAFTA winner Brie Larson and BAFTA nominee Donald Sutherland. Fagun previously starred alongside Martin Sheen in the feature film, Bhopal- A Prayer For Rain, where she received critical acclaim for her performance. 
Fagun's artistic passion for directing is inspired by a need to represent stories that shed light on important issues. She is currently directing the documentary, How Our Brains Are Effected by Meditation and is producing with BAFTA winner, Charles Steel on a TV production - she was involved in attaching the director and contributing to the creative writing process. 
From classical acting in London theater, to ascending to cinematic international cinema, Fagun's career currently features British, Indian and American Hollywood films.
---
Iesh Thapar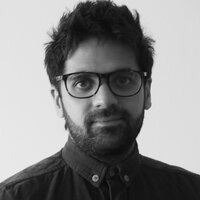 Iesh Thapar is a recent graduate of the MFA Film program at Columbia University. Last year, Iesh was awarded the ESPN/Tribeca Film Institute Future Filmmaker Prize for a documentary he is making about an undocumented student athlete, entitled, Glass Box Dreamer. He was also presented the 2016 Alfred P. Sloan Production Grant for his graduation short film, TV in the Fish Tail, which was shot in the Indian Trans-Himalayas. Iesh is twice recipient of the prestigious BAFTA LA Scholarship, an awardee of the 2017 John Brabourne Award, the 2017 School of the Arts Campbell Award, and the recipient of the 2017 Ezra Litwak Award for distinction in screenwriting for his screenplay, Alien Kulture. 
---
Emma West
Emma is an actress & producer of film and theatre.  She is a director of Copperhead Productions, where the first play she developed, produced and starred in, Lizzie Siddal had a sell-out run at the Arcola Theatre, London and went on to be published.  The play was nominated for three OffWestEnd awards, including Best Female Performance. The Times said 'West is a name to watch'.  She has just wrapped season 2 of her popular web series The Nappy Files and will be appearing in feature film The Hippopotamus (adapted from the Stephen Fry novel) later this year.
---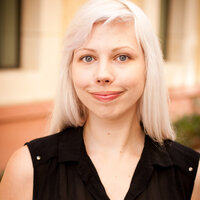 Emma Weston
Emma Weston is a LA-based production designer, currently honing her craft at USC School of Cinematic Arts, due to graduate in Dec 2017. Emma is inspired by playing with a limited color palette - sticking to a few colors so that when a new or more vibrant color is seen, it amplifies a certain emotional beat within the story. With a background in fine art, Emma's hobby is concept design for animation.