For over 17 years, BAFTA Los Angeles has been working in the High Schools, Parks and Community Centers of South Los Angeles, bringing screenings, educational events and mentorship opportunities to some of the most underserved areas of our city. 
Our outreach work has been commended by the City of Los Angeles and the Department of Recreation and Parks. In April 2010 BAFTA Los Angeles was commended by the County of Los Angeles "in recognition of dedicated services to the affairs of the community and for the civic pride demonstrated."
---
HIGH SCHOOL MENTORSHIP
We have developed a unique and enduring relationship with George Washington Preparatory High School in the Westmont neighborhood of South Los Angeles, and its film teacher Darryl McCane. Hundreds of our members have visited the school in recent years to bring their expertise and guidance to the film class. 
These have included a makeup masterclass series by BAFTA-nominated Makeup artist Donald Mowat (Nocturnal Animals, Blade Runner 2049), an acting and improv class led by actor Paul Blackthorne (Arrow, 24) and a writers workshop led by TV Showrunner Bob Daily (Frasier, Desperate Housewives). 
Using our partners in the industry, we have connected the students of Washington Prep with field trips to the LAIKA Experience at Universal Studios and Nickelodeon for educational tours of their facilities. In partnership with the New York Film Academy, we have brought 30 students to their studios in Burbank for a nine-week introduction to filmmaking. 
---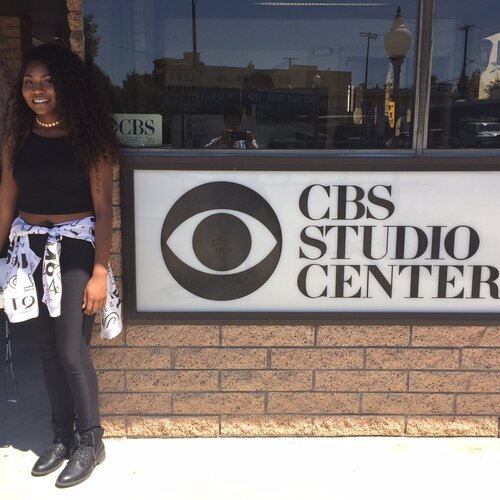 HIGH FLYERS
Through our work with Washington Prep, we identify students whose talent and commitment mark them out for further support. These students are invited to attend BAFTA LA screenings, as well as select major events such as the Britannia Awards and BAFTA Tea Parties.
The Righteous Conversations Project, organized by Harvard Westlake and the Holocaust Museum, which connects high school students of diverse backgrounds with Holocaust survivors, to inspire a short film project. 
New York Film Academy annually provide an advanced filmmaking workshop, to some of our more advanced and committed students. 
Internships: we have arranged internships at CBS' The Odd Couple, at Will Packer Productions and within our own BAFTA LA offices.
Click here to learn more about our High Flyers! 
---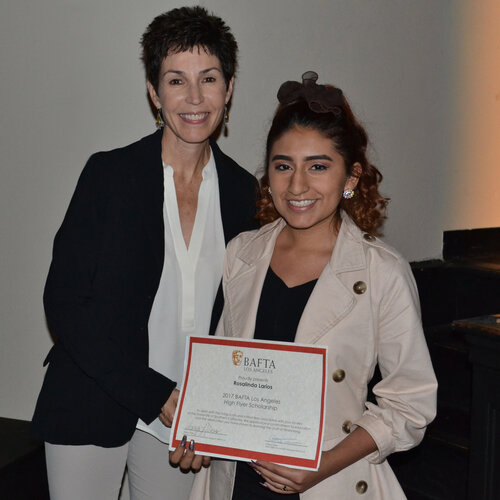 BAFTA LA HIGH FLYERS SCHOLARSHIP
We grant a scholarship every year to one of our most outstanding High Flyers. This year, Rosalinda Larios was given a $4,000 scholarship to contribute to her education at the University of Southern California. Whether they pursue film or not at higher education, the highest goal of our high school mentorship program is to encourage the students on our program to continue their education beyond high school.
---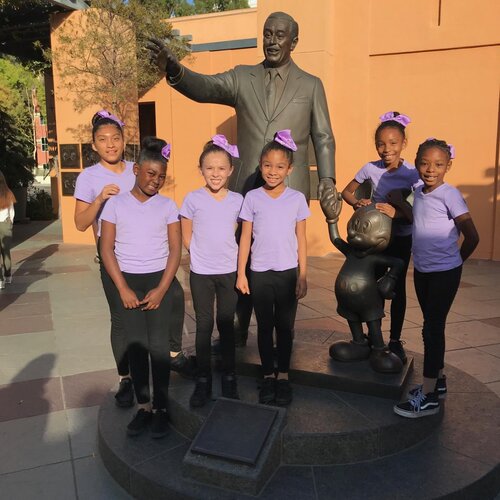 INNER CITY CINEMA
BAFTA LA has aimed to bring the joy of cinema to the city's most underserved areas, with screenings and events that bring the lights of Hollywood to those who too often fall in its shadow. With industry partners like LAIKA and Warner Bros, and community partners like the Los Angeles County Parks and Recreation and the Los Angeles Sheriffs Department, we have brought special events to communities that demonstrate the wealth of exciting careers and opportunities provided by the entertainment industry and we invite community groups from South Los Angeles to attend many of our membership family screenings, to share in the joy of cinema with our members and their families.