20 March 2014
BAFTA/ Jonathan Birch
BAFTA Los Angeles is pleased to announce the latest opportunities for BAFTA Members, award winners and industry organizations to 'Give Something Back' and contribute towards our efforts in Los Angeles.
We are always encouraged by the level of enthusiasm from Members who are keen to learn how to contribute more to our mission and become more involved with BAFTA Los Angeles. For details of the BAFTA-wide initiative, please click here.
Here in Los Angeles we have three specific projects that we would like your support to accomplish at this time:
BAFTA Mentors: Washington Preparatory High School.
BAFTA members are currently offering expert guidance and advice to the film students at Washington Prep High School, an underserved school in a troubled community.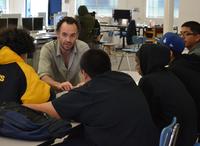 We are delighted to have brought colleagues from a cross section of our membership in the past few week, including actors, writers, directors, producers, costume designers and technicians, all lending their unique expertise with special presentations.
Our efforts at the school will culminate with a film festival at the school in May. We will be constantly working with the faculty to ensure that our efforts there are beneficial, measurable and productive for all concerned.
If you are willing to step up and join in with our efforts at Washington Prep, please contact the BAFTA Los Angeles Office as soon as possible.
Inner City Cinema
Our Inner City Cinema program brings the joy of film screenings to an area drastically underserved by movie theaters with our Inner City Cinema program.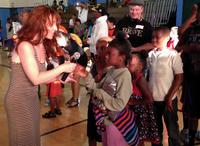 Many films have been screened for the community often with stars and filmmakers in attendance. The Inner City Cinema project has had a tangible, positive effect on an area in which gang-related crime was very prevalent. However, we need the support of our Members to continue this program during the Summer months and the important School Holiday period.
Do YOU have a film you can bring to our Inner City Cinema program? Can you help arrange rights to screen films? Are you a filmmaker with a film that work well for the program? Can you help bring your A-list clients? Please do step forward.
We are looking for fun and inspirational films suitable for all ages, and in particular those with a strong positive message. We would love to hear from you, so please contact us at the BAFTA Los Angeles Office
New York Film Academy: Safe Transport Fund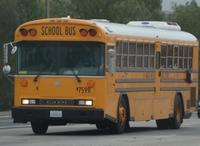 BAFTA Los Angeles has arranged for select students from Washington Prep to take a 5-week Saturday film course at the New York Film Academy at Universal Studios.
NYFA are providing teachers and equipment for an introductory hands-on course in filmmaking. We hope that through efforts like this, we can narrow the gulf between LA's inner city and Hollywood's entertainment industry for determined students.
BAFTA will be providing safe transport via private bus to students, at the cost of $500 per day. If you would like to help BAFTA fund this important opportunity, we would gladly accept donations of any size. BAFTA Los Angeles is a registered 501(c)3 Non-Profit Corporation.