26 March 2014
BAFTA Los Angeles is pleased announce that former BAFTA Los Angeles Chairman and current Governor Arnold Schwartzman, OBE was selected to design the special United Nations Peace Monument in South Korea.
The 20ft-high aluminum monument is now on display at the Korean War Memorial Museum Seoul, South Korea (pictured below).
Arnold is a celebrated British-born graphic designer and documentary filmmaker, who won an Oscar in 1981 for producing and directing Genocide. The peace monument was designed for the Korean Informational Association.
Arnold has also created many pieces for BAFTA Los Angeles including previous designs for the Britannia Award, official event artwork, and tribute books for our award honorees.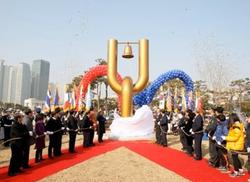 A documentary feature on Schwartzman's career, which was broadcast this year on Korean national television, lead to the invitation to design the memorial. Schwartzman graduated from Canterbury College of Art in 1955 and shortly thereafter he served a year in South Korea with the British Army's 1st Battalion The Royal Sussex Regiment.
In 2001 Schwartzman was appointed an Officer of the Order of the British Empire by HM Queen Elizabeth II, for services to the British film industry in the United States, and in 2006 he was conferred the distinction of Royal Designer (RDI) by Britain's Royal Society of Arts.
Schwartzman's military service in Korea also provided him with the opportunity to produce his first documentary film, The Morning Calm, which was filmed with a movie camera purchased at the US Army PX Store in Seoul. The film is now considered to be a historic chronicle of immediate post war Korea and is in the collection of the Imperial War Museum, London.