18 June 2015

"Day One" directed by Henry Hughes from American Film Institute and "Lucy" by Zoe Lubeck from DePaul University were honored at this year's 2015 BAFTA US Student Film Awards, presented at the Wallis Annenberg Center for the Performing Arts in Beverly Hills.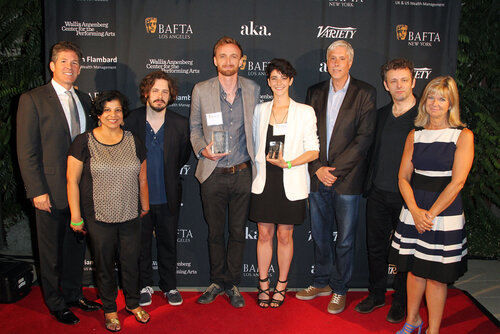 Getty Images
Selected by the Voting Membership in attendance, the 2015 BAFTA US Student Film Award was presented to Henry Hughes from American Film Institute for his short film "Day One."
The Special Jury Prize Presented by AKA Hotels was awarded to Zoe Lubeck from DePaul University for her film "Lucy." The panel of Hollywood luminaries included BAFTA-nominated director Edgar Wright, Britannia Award-winner Michael Sheen, Variety News Features Editor Shalini Dore, and renowned film editor Christopher Rouse. Earlier this month, AKA Hotels hosted a special reception in New York to celebrate the students and faculty of participating schools on the East Coast.
"The breadth of innovation in the eight finalists was truly staggering. Not just in terms of production value and performances, but the ingenuity in the story telling. It was a pleasure to sit there and see the future," stated Edgar Wright.
"I wish I could spend every evening so enjoyably. Eight incredibly diverse, entertaining, challenging, disturbing and beautiful films. The future looks bright." added Michael Sheen.
The evening concluded with an after-party and the presentation of this year's Student Film Award and Special Jury Prize winners.
This year marked the expansion of the event into a national competition across the U.S., in collaboration with BAFTA New York.
This spring, BAFTA invited 89 of the most elite film schools from across the United States to submit student films for consideration. Of those submissions, the following were finalists for the prestigious Student Film Award: A Mighty Nice Man by Jonathan Dee, Columbia University; Day One by Henry Hughes, American Film Institute; Grooming by Kaushik Sampath, University of Southern California; Jinxy Jenkins, Lucky Lou by Michael Bidinger and Michelle Kwon, Ringling College of Art and Design; Lucy by Zoe Lubeck, DePaul University; Soar by Alyce Tzue, Academy of Art University; South Arcadia St. by Melanie D'Andrea, University of Southern California; Wire Cutters by Jack Anderson, Chapman University.
The BAFTA US Student Film Awards identify and celebrate the best creative works produced by American and international students studying in the United States. The event is presented as part of BAFTA's on-going commitment to supporting and developing emerging talents, with the finalists also invited to attend BAFTA's year-round educational events in the US. The BAFTA US Student Film Awards also serves to connect rising international student filmmakers with experts from the UK entertainment industry.
The 2015 BAFTA US Student Film Awards were sponsored by Adrian Flambard, Variety and AKA.