1 March 2012
BAFTA Los Angeles / Lucy Nicholson
Co-Founders Peter Beale and Marion Rosenberg OBE reflect on the early days of BAFTA Los Angeles
It's hard to believe that BAFTA Los Angeles is twenty-five years old.
We were having a cup of coffee after a screening in Hollywood, lamenting the fact we missed the times in London when cast and crew would all repair to a pub and discuss the film, socialize and exchange ideas. Here in Hollywood everyone just went home. Peter said, "It would be great if we had BAFTA here. They have a restaurant and a bar, and after the screening everyone gets together to 'dish' and either pull the film apart or lavish it with praise."
Marion remembered that when Reginald Collin, then director of BAFTA, came to Los Angeles in 1984 for an event honoring Princess Anne, who was President of BAFTA at the time, he had been astonished at how many Brits were resident in Los Angeles. So Peter got in touch with Reg, who thought that starting BAFTA in Los Angeles was a great idea. "You can use the name and logo", he said. "Just make sure it doesn't cost BAFTA London anything." It never did.
Our first task was to create a Mission Statement, which became To celebrate and promote excellence in our craft...
We put together a list of local Brits and "Brit-friendlies" and the first meeting was held at Peter's then-company, Showscan. About sixty people showed up, and they became our Founder Members. Among them was the distinguished attorney Michael Oliver, whom we enlisted to make us official, register us as a charity, and help create the by-laws which form the basis of the Academy as we know it today. Peter became Chairman, Marion became President, and Michael was Secretary. We recruited the following to form the first Board:
Francesca Beale-Rosano, Shirley Craig, Marcelle Garfield, Pamela Godfrey, Sarah Lawson, Delphine Mann, Isabel Maxwell, Sara Romilly, Christopher Toyne.
Their contributions to the early days of the Academy were invaluable.
Our first task was to create a Mission Statement, which became: To celebrate and promote excellence in our craft.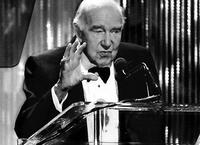 BAFTAWe used our own money to fund the early meetings and events, and also received valuable practical support from Roger Meyer of MGM; Severin Ashkenazy of the Hermitage Hotel Group; Jim Goodwin of the Design Center, and Showscan Corporation, which provided secretarial and office support. The great Ronnie Neame (Pictured) was our first cash sponsor, with funds that allowed us to buy our very own computer; and later, Albert R. "Cubby" Broccoli made a timely and very significant contribution.
Not all of our members were British. This was a time when many Americans who had been active in the British film industry through the sixties and mid-seventies had returned to the United States because the British film industry was in the dumps; in addition, a lot of Brits had been invited to Hollywood to contribute their talents. If a potential member had made a significant contribution to the British film industry, they qualified for membership, regardless of nationality.
The initial reaction to BAFTA Los Angeles from the Hollywood community was somewhat luke-warm. Our very first events came from our personal contacts (and mainly from Marion's client list!), and we focused on British films and British talent. To encourage the social aspect, Peter's wife Francesca, together with Delphine Mann, served as our Catering Committee. For the first four years they cooked and often paid for all the refreshments for our events, so much so that our nickname became "The British Academy of Food and Drink"!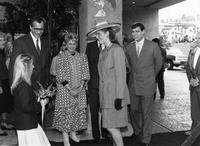 BAFTA Los AngelesWe did get considerable support from the British Consulate, and it was Consul-General Donald Ballentyne and his wife Liz who first allowed us to use The Residence for our Garden Party. It was also Don who requested that we assist with the visit to Los Angeles of Prince Andrew and Sarah Ferguson, who were on their honeymoon. For this event, Arnold Schwartzman, along with AMPAS, created an amazing display of film posters of Academy Award © winners, and for the first time we realized that, over the years, a significant number of Academy Awards had gone to Brits.
We were told that the star-studded luncheon that we put together, (and which we personally had to financially guarantee), for the Prince and Princess at Le Bel Age Hotel was one of the most exciting and elegant that Hollywood could remember, and it became the forerunner of the Britannia Awards event, now one of the highlights of the Hollywood calendar.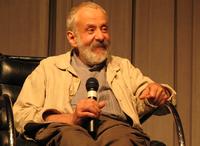 BAFTA Los Angeles/Adrian CarrWe continued to focus on screenings of UK films, some of them undistributed in the US. In fact, it was the BAFTA Los Angeles screening of MY LEFT FOOT that led to it obtaining US distribution. This was a a screening which really put us on the map. Hollywood began to notice. They also began to realize that the BAFTA Awards served as a sort of forecast for the Academy Awards, which led to Pamela Godfrey arranging for our members to receive screening invitations, and later, DVDs, of eligible films, and ultimately to vote in the BAFTA Awards.
From the beginning, BAFTA Los Angeles has been run by a volunteer Board and a series of Committees, who serve with amazing dedication and devotion. We now have a permanent staff of five, led by Executive Director Donald Haber, who support the Board and put on over a hundred screenings and events each year. From the very beginning we required strong fiscal responsibility from the Board, much aided by Don's budgeting process, which has allowed the Academy to maintain a sound financial basis, with cash in the bank.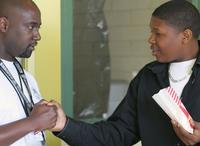 BAFTA Los AngelesOne of our first initiatives to "give back" was the creation of a scholarship, initially funded by Severin Ashkenazy, to help UK film students continue their studies at UCLA. We also started to record our pioneering Q and A sessions after screenings, leading to what has become an important archive. BAFTA Los Angeles' commitment to the community at large is spearheaded by its much-lauded Community Education and Outreach Program, led by Katy Haber and Paul Heller.
We were very proud when we were told by one of our Consuls General that BAFTA Los Angeles was considered by the British Foreign Office to be one of the most important British cultural institutions outside of the British Isles. This success was also noted by BAFTA in London, and last year we completed the major initiative of merging BAFTA Los Angeles with BAFTA in London, and all its branches, to create "One BAFTA", enjoying the benefits of international sponsorship and joint events.
As co-founders, we are more than happy with the continued success of BAFTA Los Angeles. We are grateful to everyone who has followed us in contributing to this success, including all the Officers and Board members over these twenty-five years. We thank them all for remaining true to our initial vision: To celebrate and promote excellence in our craft.
Peter Beale
Marion Rosenberg OBE
Co-Founders of BAFTA Los Angeles