---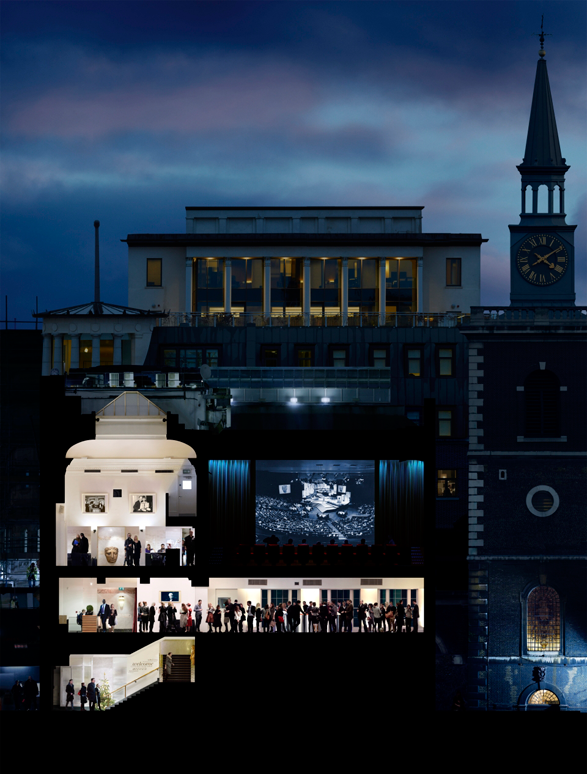 BAFTA/ Kevin Vucic-Shepherd
---
About the piece
Architect-turned-artist Kevin Vucic-Shepherd has created a unique lightbox; Piccadilly to Jermyn St. 2012-2013., featuring selected imagery from the BAFTA archive. The artist was given unparalleled access to BAFTA's headquarters and archive material to create the work – the result is a 'time capsule' portrait of 195 Piccadilly.
Vucic-Shepherd's work involves removing the sense of spatial perspective in photography. The photo is modeled like a 'section', an architectural drawing which cuts through an object on a vertical plane, revealing all the mechanisms inside. The process of creating the artwork was painstaking: each measurement of 195 Piccadilly was recorded using a laser, assessing the most viable cross section, incorporating drawings of the building and adjoining or nearby structures, taking hundreds of photographs from the angle of the cross section (with perspectives ranging from underneath people's desks to rooftop views), assembling the pictures by hand and finally re-drawing the initial plan with photographs. Sections of the building, rooms and corridors are displayed at once, allowing an all-inclusive view.
"The way we look at urban space, especially if you've lived somewhere for a long time, you think you know it but that's not true" says Vucic-Shepherd. "There are always stories and spaces you don't know, you don't see." Shepherd, who worked in special effects for Hollywood films such as Alien vs. Predator, Troy and Charlie and the Chocolate Factory concludes, "All photography is a lie, a fiction, because of perspective. We know that things that are close up are not bigger than things that are further away. Perspective has within it these buried hierarchies, which if you think about it, has more to do with the way we perceive something than the actual reality of what something is."
---
How to buy
Kevin Vucic-Shepherd will produce limited edition prints of Piccadilly to Jermyn St. 2012-2013.: six large (1500mm X 1000mm) and 15 medium (1000mm by 670mm), POA. A share of the proceeds will go to BAFTA.
For information on purchasing the BAFTA exhibition prints, email [email protected].