1 May 2013

Meet set designer Bingemann, the man who is responsible for setting the scene for the BAFTAs.
Peter Bingemann has been the set designer for BAFTA's Film Awards ceremonies since 2002 and for the Television Awards since 2007. Each year he brings a unique concept to the stage, always achieving a set design that reflects the glamour and prestige of the event.

In this interview Peter explains exactly what is involved when it comes to setting the scene for the biggest night in UK film.

< Left: Peter with a model of the 2013 Film Awards ceremony set
The BAFTA Film Awards have always been a special show for me. It is an incredibly glamorous show to be involved with.
How did you become a set designer?
It was a childhood ambition combined with a love of theatre. I went to art school and studied Theatre Design.
What was your first job?
My first proper design job was working as a staff designer at Tyne Tees Television in Newcastle.
Tell us about some of the sets you have designed.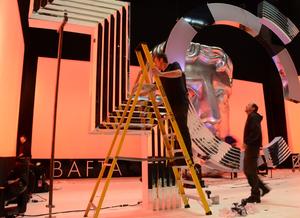 BAFTA/ Simon LeighMost of my work in the past 20 years has been linked by television. I have designed some wonderful events like LIVE8 and Concert for Diana at Wembley Stadium and some big and unique specials with artists like Paul McCartney Take That, Kylie and Michael Bublé. I have been the Production Designer of The Brit Awards for the past 3 years and am proud to have designed 5 Royal Variety shows. For 12 years I have been the designer of the Nobel Peace Prize Concert in Norway. I have designed shows in most of the great theatres and venues in the UK and a show in the grounds of Buckingham Palace. Also dozens of television shows of all shapes and sizes and of course 12 BAFTA Film Awards!
How many sets/projects do you work on each year?
I work on about 12 shows each year.
How long have you been working with BAFTA and designing the Film Awards set?
I have been designing the BAFTA Film Awards since 2002 and The BAFTA Television Awards since 2007
What makes BAFTA and the Film Awards special for you?
The BAFTA Film Awards have always been a special show for me. It is an incredibly glamorous show to be involved with. Even more so when it moved to The Royal Opera House in 2007.
Are there specific challenges associated with the Film Awards set design? For example, is it difficult to design a set for a live and TV audience?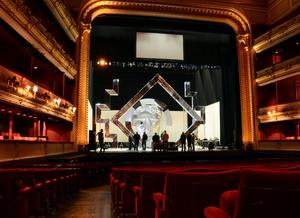 BAFTA/ Simon LeighIt is wonderful working at the Royal Opera House but we have to work around their enormously busy schedule. It is not uncommon for 2 whole productions to be moved on and off stage in a single day. Our BAFTA set moves on and off stage twice in 48 hours so the design has to take this into consideration. We discuss with the Opera House what they can accommodate and have to carefully consider how the design will integrate with their current shows.
How do you come up with a fresh, new and creative ideas every year?
With difficulty! Ideas develop over the year. We look at current trends. The idea of glamour has always been a linking theme.
How long does it take from concept to the final set up?
It varies but usually about 8-10 weeks.
Is CAD essential to the process?
What is the most important aspect of designing the set?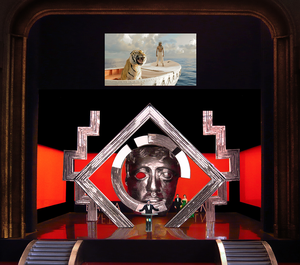 Peter Bingemann DesignsCAD is not essential but a very useful tool that we use in the design process. We use a CAD programme to produce all the technical drawings of our designs. The actual designs are presented as colour scale models. This is the way that most theatre designs are still created and presented. Despite the popularity of computer drawn visuals, in my opinion a scale model is still the best and most accurate way of presenting a set design.
As well as creating a stunning environment the design has to be very practical for the TV show. It has to give the television director plenty of scope for varied and interesting shots of the celebrities making their entrances. We also carefully consider the background of the main shots of people standing at the lectern.
What is your favourite thing about working on the BAFTA Film Awards set?
Seeing the biggest film stars appearing on a set I have designed is always a thrill!
Who else do you work with when putting the BAFTA Film Awards set together?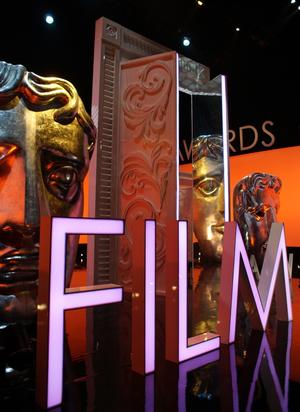 Peter Bingemann DesignsOver 13 years a number of creative people have contributed ideas and helped to develop designs. Once the design is agreed the set builders work on realising the design and then we spend several days at the Opera House fitting up the finished set.
I also work closely with the Lighting Designer. The lighting is a very important part of the finished picture.
Is it a collaborative process?
The best design is always a result of a collaborative exchange of ideas.
Do you have some advice for anyone thinking of becoming a set designer?
I think a degree in theatre or film design is still a good start. However designing is a craft so working as an assistant to a designer is when the real learning process starts. It requires a lot of drive and commitment as well as creativity so it has to be something that you feel passionately about doing.
---
BAFTA Awards Sets Over the Years:
| | |
| --- | --- |
| Peter Bingemann Designs | Peter Bingemann Designs |
| Peter Bingemann Designs | Peter Bingemann Designs |
| Peter Bingemann Designs | Peter Bingemann Designs |
| Peter Bingemann Designs | Peter Bingemann Designs |