18 September 2017

Monument Valley producer and 2014 Breakthrough Brit shares his journey to the top, proving creative success is in anyone's reach. Interview by Will Freeman.
BAFTA/Jonathan Birch
---
Assumptions are often made about the creatively successful.
There's sometimes a preconception that it takes an esteemed education, substantial budget or pre-existing connections to enjoy recognition.
2014 BAFTA Breakthrough Brit Dan Gray is proof that isn't always the case. The video games maker and producer today heads up studio ustwo Games, creator of the exquisite, critically lauded Monument Valley and its sequel. Grey lead work on the eye-catching puzzler as producer, working with director Neil McFarland, designer Ken Wong and a highly talented, distinct team. The game eventually took two BAFTAs, an Apple Design Award and a host of other accolades.
But Gray didn't grow up with his fate predetermined by privilege. And he's under no illusion that his recognition means his effort to succeed is over. So if money, network and top-flight academia didn't predetermine Gray's journey to recognition, what did? Blind luck?
"I've had a really fortunate career path," he says. "But with hindsight, it's really hard to know what is being fortunate, and how much of your own luck you actually make. You'll never know either way, of course."
Still, Gray has a good idea. Luck is luck. But persistence and devotion can do much to put one in the places luck happens.
Where Gray does feel lucky is in knowing what he wanted to do from a young age. On the release of Final Fantasy VII some 20 years ago, he found himself reading an article about the game in magazine CVG. As he poured through the article and then played the beloved RPG, he realised he absolutely wanted to make games. Gray was 11 years old, but his route to fulfilling his dreams was by no means wide open to him.
"I wasn't the best student," Gray admits. "I'm not a natural academic. I went to a really terrible school in Manchester, and until that Final Fantasy VII launch I didn't really know you could have a career making games. I knew I liked art and technical stuff, and I felt if I did that things would be OK. Then at around 16-to-18 I hung out with the wrong people. I was at Stockport College, and got really bad grades. I got a D and an E."
---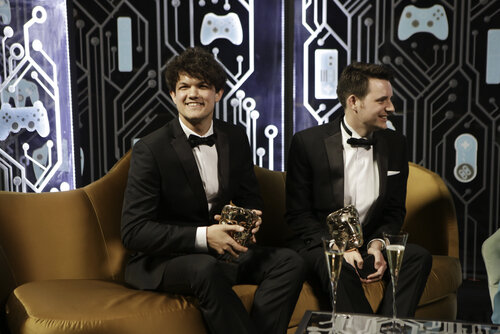 BAFTA/Jonathan Birch
---
Gray points out that he happily shares his academic past. As his teenage years came to a close he was neither an A-star student nor guaranteed game design triumph. But that didn't mean he couldn't forge a successful, rewarding creative career.
"I'm doing OK for myself now, but it's not like your trajectory to success has to be a steady, constant climb," he continues. "Different people respond differently to different types of learning, and at that time, at college, I found myself just dossing around. It was only when I went to university, and got to study and work on actual games, that I was fully in; fully up for learning."
Gray pauses.
"I mean, I was fully in eventually," he reflects. "I had a lot of fun in the first year at university. I'm a firm believer that life learning is as important as academic learning. But by the third year I was top of my class, I got a first, and I left university knowing exactly what I wanted to do. I definitely still wanted to make games."
Creative success doesn't come without sacrifice, though. Gray is keen to point out he feels very fortunate to make games, and he likely wouldn't change a thing. But he admits he catches himself wondering about the pleasures of 'normal life'; regular hours, spare time, maybe even owning a house and having a little space.
"There are lots of valuable things in life. I love making games, and I can't imagine doing anything else. But, it's difficult to run a game company. It's difficult to make a good game. It's difficult to learn all you have to learn. It's difficult to put a brave face on an be interesting when your being interviewed. Not that I'm doing that now, of course," he says with a smile, before returning to the serious. "You have to be prepared for making good games to be difficult."
---
I'm doing OK for myself now, but it's not like your trajectory to success has to be a steady, constant climb
---
As for Gray's career after leaving his polytechnic education, it started with an immediate hurdle. Having seen a posting for an unpaid work experience placement, he called Lionhead, a renowned game developer of the time. He was quickly told there was a six-month waiting list. Undeterred, Gray phoned Lionhead every Friday to check if that had changed. After nine weeks of trying, he found his break. An intern had cancelled. If Dan could dash down from Manchester to Guildford in just over two days time, the placement was his.
Lucky? Certainly. But he had persisted in putting himself in a position where luck could strike.
"Ringing up all those times was something like making my own luck," Gray offers. "At least, you can give yourself the opportunity to be lucky."
As his work experience concluded, Gray had worked hard enough to prove himself. He was offered a job on his last day. It was a humble start – a QA role. But devotion quickly paid off, with Gray promoted to producer. He got to work on the notorious Milo and Kate project, and the popular Fable series. As Lionhead moved towards the end of its lifespan, Gray found himself made redundant on a Friday. Offered a place at No Man's Sky studio Hello Games the following Monday, he once again seized the day.
"I had a great time at times at those studios, but there was always this part of me that felt I didn't quite fit in video games," Gray says of his pre-ustwo experience. "Part of that is that when I started at Lionhead, and even at Hello Games, almost everyone went to good universities and was well educated and came from good families."
Gray wasn't from a good neighbourhood. He liked going to raves and talking about football. His then-peers liked 'board games and rock music', he jokes.
"I felt left out, in a way. But I had this sense I could combine the things I liked with wanting to make games."
Then Gray spotted a job posting at ustwo, and curiosity got the better of him. His first visit to the studio stays with him to this day.
"I saw an environment for potential, and a place I could fit in," Gray remembers. "I could see they had this massive attention to detail, and this quality of design. And the people there were normal to me. They partied and there were people from all different kinds of backgrounds. The gender spilt was better and the sexual orientations of people was more varied. The whole place was more diverse. It was a place I could fit in to. The place was weird, and weird is good to me. I just knew that if we made a game in this environment, the game would be different. It might not be good, but it would be different, and something I wanted to make."
---
Within months Gray and his new colleagues had come up with the founding concept of what would become Monument Valley. Half in jest, he says they were trying to make a mobile game that the team wouldn't be embarrassed to be seen playing in public; an apparent nod to the many less than inspiring titles that have thrived on mobile.
"We really just took something and packaged it up in a way that's platform-perfect," Gray says of Monument Valley. "We could have gotten more money and taken it to Xbox and PlayStation and so on. But we've not done that, because Monument Valley is the perfect touchscreen game that we could make. With Lands End, we did the same for VR. That's what we try to do."
---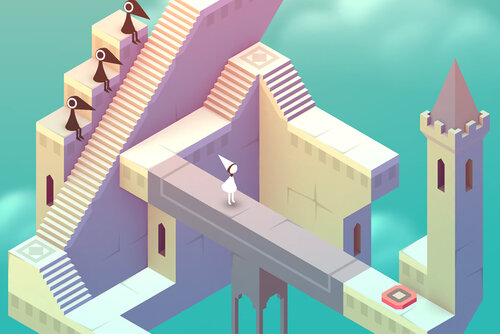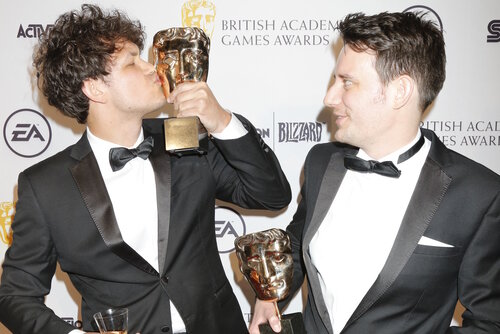 BAFTA/Jamie Simonds
---
Based on the critical praise, awards, passion and adulation directed at Monument Valley, Gray and his team succeeded in their objectives. But their mission to push what games can be isn't over.
"It's always worth having some perspective on what you've made," Gray suggests. "Monument Valley was a good game that won awards, and was in the right place at the right time to hit the right nerve. But I could walk from our studio in Oval back to our old office in Shoreditch, and ask everyone who I walked past on that long journey if they had heard of Monument Valley. They would say 'no'. I would be surprised if I met one person who knew what it was."
That may change on arrival in Shoreditch, Gray jokes, but his point is a fascinating one. "That sense makes me realise I've got so much more work to do with games [and] interactive entertainment. There's so much more to be done with making this truly mainstream." Gray certainly isn't resting on his laurels, and with so much to do, he must get back to the business of making great games.
Words by Will Freeman