3 September 2013
BAFTA/ Jonathan Birch
For the 2013 annual Games Lecture, game designer David Cage delivered an insightful talk entitled 'Can Games Become Art?'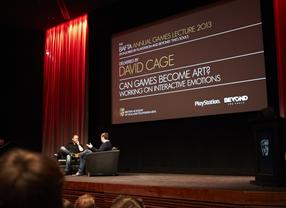 BAFTA/ Jonathan BirchOn Tuesday 3 September, BAFTA welcomed Quantic Dream's David Cage to deliver the Annual Games Lecture. Over the past fifteen years, Cage has written and directed a range of innovative and influential games, including Fahrenheit, the BAFTA-winning Heavy Rain, and the upcoming Beyond: Two Souls.
Throughout his lecture, Cage was keen to stress the importance of meaning and emotion in games, asking "can we create meaningful experiences, can we create games that have something to say?" He emphasised his belief in interactive storytelling, stating that "this is the most exciting evolution in storytelling since films were invented."
During his presentation, he showed numerous behind-the-scenes clips of Beyond: Two Souls, highlighting the advances being made in performance capture. Whereas in previous games the characters could "all look like dead fish", Cage showed how it was now possible to capture an actor's nuances and subtleties of expression.
Throughout the witty and insightful lecture, Cage affirmed his belief in the future of gaming, and the important role young designers have to play. He urged the next generation of design talent to always be creative, think of new ways to tell stories and, fundamentally, to always have something to say.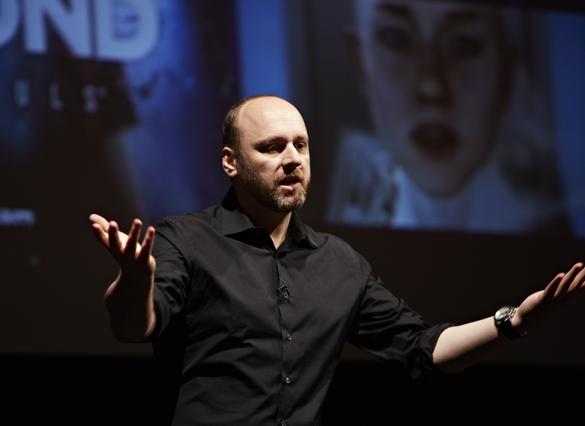 BAFTA/ Jonathan Birch
---
BAFTA/ Jonathan Birch

About David Cage

David Cage began his career as a professional musician for film, television and games, before founding games studio Quantic Dream in 1997, with a goal of using interactivity to create emotive, innovative, immersive storytelling. He is also director, lead game designer, and screenwriter at the studio and, over the years, he has collaborated with world-renowned artists such as David Bowie, composer Angelo Badalamenti (Twin Peaks, Mulholland Drive), and screenwriter Hampton Fancher (Blade Runner).
Follow on Twitter
We live tweeted the event from @BAFTAGames and others joined the conversation using #GamesLecture. Check out the tweets to see what people were saying and share your own views.
David Cage on directing @Beyond2SoulsPS3: "It's like shooting different parts of a puzzle each day throughout an entire year." #GamesLecture

— BAFTA Games (@BAFTAGames) September 3, 2013
---
Event Sponsor

---
Get Social