26 April 2017

Seemingly out of nowhere, a tiny development team has delivered a multiplayer masterpiece with Overcooked. Here they share their rapid rise to success.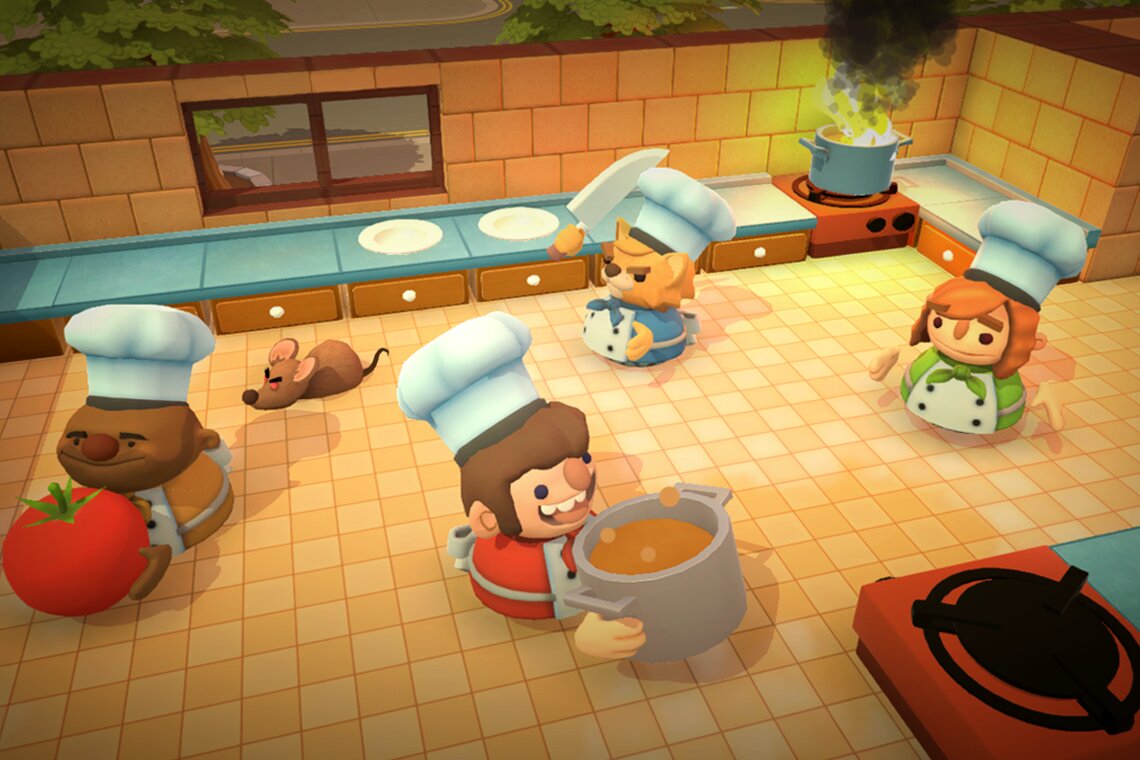 ---
The story of Ghost Town Games starts in a less than glamorous location; a modest back room that had fallen into disuse at UK studio Frontier Developments. A handful of the team at the veteran Cambridge outfit had found a sanctuary in which to escape for lunchtimes; a tucked-away spot originally set-up to serve the developer's efforts crafting games for Microsoft's gesture-based hardware, Kinect.
In their haven, Ghost Town Games co-founders Phil Duncan, Oli De-Vine and likeminded Frontier colleagues would huddle around a screen enjoying games together, for something of a spirited busman's holiday from their day jobs.
"We just played anything that was four-player multiplayer, and let a few of us gather around the screen. It was a good place to go and sit and eat our lunch," Duncan remembers. "And I guess that was the earliest moment; the beginnings of Ghost Town Games."
Co-op games became the group's preferred distraction, but more quickly than they liked, they ran out of titles that met the requirements of their sessions. Being a collection of developers and designers, conversation naturally turned to concepts for multiplayer and co-op games that would suit a group of friends tightly packed around a single screen, and fill the hole a lack of titles had left in that Kinect room. They didn't know it at the time, but those conversations inspired a journey that would take Duncan and De-Vine to a double win at the 2017 BAFTA Games Awards.
"Back then, at Frontier, we'd decided that we wanted to make a cooperative game, and we knew that we wanted it to be more about teamwork and coordination, rather than necessarily about individual players being particularly good at the game," states Duncan. 
That game became Overcooked, a frantic, social and knowingly slapstick culinary romp that demands teams of players don digital chef whites and work as one to meet increasingly bizarre orders from diners.
It's a simple concept, but one that is masterfully realised, delivering energetic, typically noisy gameplay sessions, rich with laughter, applause, and the odd good-natured argument.
That knack for firing up groups of friends secured Ghost Town Games the Best of British and Best Family Game accolades at the recent BAFTA Games Awards. 
---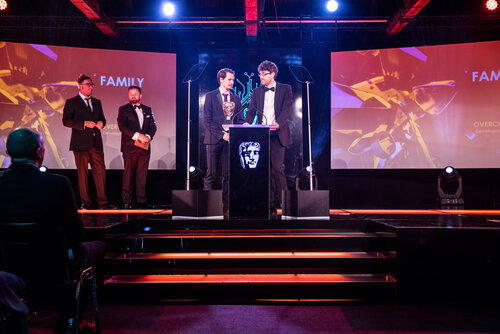 BAFTA/Thomas Alexander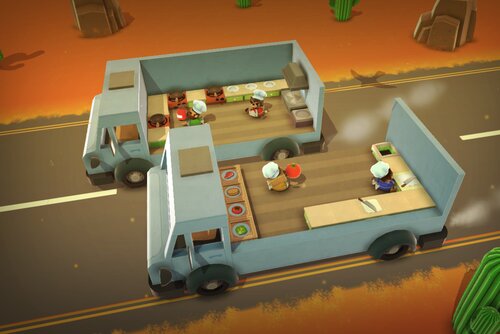 ---
And where did this idea for the culinary-setting come from? "I'd worked in kitchens in the past, and that felt like a really good analogy for the kind of game we wanted to make. In a professional kitchen you've got all these different tasks that need to be carried out, by lots of people all working for the same thing by doing different small parts of it. That, and there's lots of shouting in real kitchens. And there's a strange camaraderie that comes about working in a team like that."

Suddenly, Overcooked's capacity for engendering riotous gameplay sessions makes rather more sense; it is a creation that captures much of the rather special experience of grafting in a busy large-scale kitchen. Equally, it demonstrates the potential of looking to less than obvious places for game design inspiration, and just how quickly a good idea can be made into a game in the modern era.
"We started working on the game about a year-and-a-half ago," reveals De-Vine, before touching on the process that let them refine Overcooked so brilliantly in such a short space of time.
"We took it to its first convention really early on," he says. "It was only about a month in, and from that early stage we iterated based on the feedback. We kept taking it to small conventions, and kept iterating. The development of the game was very much joined up with the dates of coming conventions. We used that a lot to provoke us to get builds to a point where they were in a good, polished state.  It was so important for us to get feedback from seeing groups of people playing it.
"And those groups were important too," De-Vines adds, before stifling a chuckle. "Especially as there were two of us making a four-player game."
---
 

Our interest is in staying small, and making things that take a bit of a risk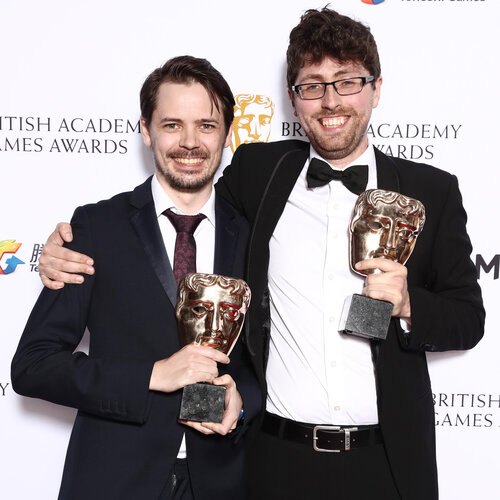 BAFTA/Shutterstock
---
Conventions were equally useful to Ghost Town, in terms of people of different abilities playing together, and players that were strangers to one another communicating as one. Because, Overcooked is ultimately a game of talking – or shouting – together.

As for securing two BAFTA Games Awards just 18 months after starting the project, that was a total surprise to Duncan and De-Vine.
"We've got them here with us, and it is still surreal to see them and be reminded of them," Duncan admits. "On the night and in the following week I was almost ignoring thinking about them; it really didn't sink in at all. But having taken a step back now, and we're starting to feel it sink in."
Equally, he admits, the duo has found it a little hard to take in the fact that so many people play their game. When they are approached by Overcooked fans at conferences and conventions, it's a surprising reminder to Duncan and De-Vine that their creation is more than something only they and their friends share. "I can't believe the wider world have played it at all," says Duncan, only half-joking.
That perspective, perhaps, is the mark of a creative games studio devoted to its ideas over any success. Certainly, Ghost Town don't plan to let their recognition on the BAFTA stage change their plans for the future.
"The success of Overcooked is great, and it's nice in that it's given us the freedom, maybe, to let us really polish whatever it is we do next," muses De-Vine. "But we're certainly not going to take this success, and the BAFTAs, and use that to change things and become a large studio. Our interest is in staying small, and making things that take a bit of a risk. I wouldn't want to be taking risks with lots and lots of people on the team."
For now, the pair are busy updating and serving Overcooked, while building a Nintendo Switch port. There are equally plenty of plans to explore innovative and distinct gameplay mechanics, and they have committed to designing games the like of which have not yet already been seen before, in something of a founding principle for the studio.
Local multiplayer, they assert, will likely play a role in future Ghost Town Games creations, but they aren't going to be defined or constrained by a singular genre.
And with that, it's back to the Switch porting process.
Words by Will Freeman