22 December 2011

The BBC's ex-Head of Fiction talk about reviving the Doctor Who franchise.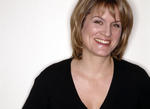 At a time when women are still under-represented in film and television, Jane Tranter has managed to break through the glass ceiling and establish herself as a leading force in the production industry. Her modernising vision at the BBC led to the rebirth of Doctor Who and her impressive list of credits includes Life On Mars, Bleak House, Spooks, Hustle and Criminal Justice.
A one-off is the least risky thing you can commission. A great big chunk of something, that is new, and bold, and highly authored, is the riskiest thing you can do.
Jane recalls her earliest childhood TV memories (including her crush on Star Trek's Captain Kirk...) before discussing the current trend in television drama towards fantasy and heightened realities.
She explains how the advancement in television special effects and the support of writer Russell T Davies led her to commission a new series of Doctor Who: "Once Russell said he wanted to do it there was never a moment of looking back."