15 April 2015

Find out more about the career of late, great BAFTA-winning actor Alan Rickman.

In April 2015, late BAFTA-winning actor Alan Rickman discussed his life and career with Boyd Hilton in a special Life in Pictures interview. Rickman entertained a sold-out audience with tales of his career as an actor and director, regaling them with stories about his creativity and collaborations on films including Die Hard, Robin Hood: Prince of Thieves, Sweeney Todd, the Harry Potter films and many more.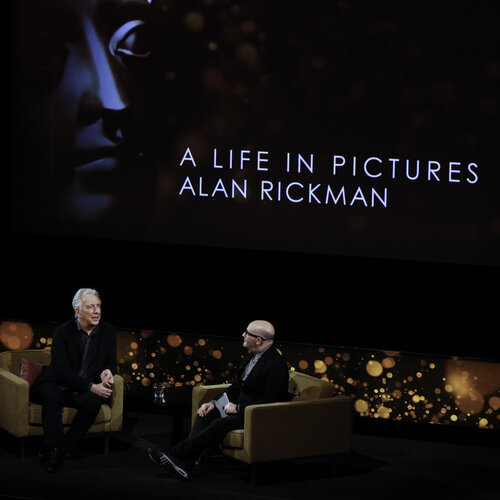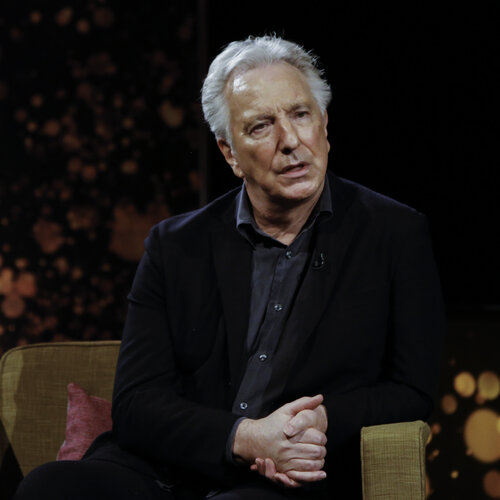 ---
Listen to the retrospective in full: 
---
Rickman discussed his upbringing and his time at art school, and his decision at 25 to pursue acting by enrolling at RADA. He looked back at a whole host of his on-screen roles, starting with Die Hard in 1988 and moving on to Robin Hood: Prince of Thieves (for which he won a BAFTA), Galaxy Quest, his time as Snape in the Harry Potter films and his directing efforts, starting with The Winter Guest in 1997. Rickman recalled his speedy transition from stage to the big screen after a successful run in Les Liaisons Dangereuses in the West End and on Broadway: 
I didn't know about LA, I didn't really know anything about the film business. I went to meet some casting directors, I went to meet some producers, and I think it was two days after I got there I was offered Die Hard. I had never made a film before, but I was extremely cheap.
Throughout the evening Rickman praised his co-stars across he years. Of his time working with Johnny Depp in Sweeney Todd Rickman said: "he's great to act with, he really is. He's very, very generous and shares himself on the set and really listens." He had high praise for his co-star Sigourney Weaver for her performance as a high-functioning autistic woman in 2006's Snow Cake, but expressed his disappointment that her performance was considered over the top by some: "that performance is based absolutely in reality." He also discussed the joy of working with Kate Winslet again in the last film he directed, A Little Chaos.
He was frank about the difficulties of directing his own performance, recalling a piece of advice Ralph Fiennes gave him: "He said, "the danger of an actor directing themselves is you're embarrassed about going for another take on you," and I could see the sense in that."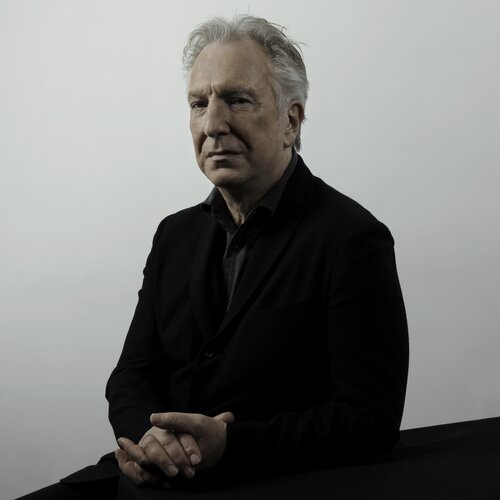 "Each director has different energies, opinions & rhythms. I've learnt from all of them. That's the joy of filmmaking" #AlanRickmanQA

— BAFTA Guru (@BAFTAGuru) April 15, 2015
Rickman made it evident how much admiration and respect he had for the directors worked with over the years, informing and influencing his own forays behind the camera. Discussing Tim Burton, John McTiernan, Ang Lee and others, Rickman said that "each director has different energies, opinions & rhythms. I've learnt from all of them. That's the joy of filmmaking"
As well as discussing many other performances from his illustrious career, including his turn as Irish political figure Eamon de Valera in Michael Collins, Rickman shared the benefits of his theatre training when acting for film and told his rapt audience that he has no regrets about his career.
---
Alan Rickman Biography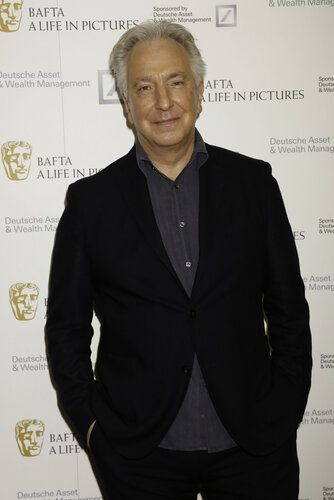 Trained at RADA, upon graduating Rickman worked for a number of repertory companies before becoming a member of the RSC. His first screen role was as Tybalt in Romeo and Juliet (1978), part of the BBC's ambitious 'Television Shakespeare' series. He appeared in Smiley's People, The Barchester Chronicles (both 1982) and Girls on Top (1985) before his star-making role as uber-villain Hans Gruber in the action spectacular Die Hard (1988). Unlike other blockbuster villains of the time, Rickman transformed Hans into a fully rounded character; witty, urbane and utterly ruthless, he helped transform the film into something much more than a shoot 'em up.
Few actors can lay claim to being a romantic lead and a dastardly villain within the space of a year. As the ghostly boyfriend of Juliette Stephenson's grieving Londoner in Anthony Minghella's 1991 drama Truly, Madly, Deeply Alan Rickman was, by turns, hilarious and heartbreaking. While in one of the highest grossing films of that year, Robin Hood: Prince of Thieves, his Sheriff of Nottingham was a fiendish delight.
The actor's command of language and his deep, rich delivery – often more lacerating than a weapon – made for an excellent villain. His Severus Snape in the Harry Potter series (2001-2011) was a case in point, a character Rickman also gave great depth so that we gradually come to understand this complex, troubled man. In the same period, he played his most vicious role; his Judge Turpin in Tim Burton's Sweeney Todd: The Demon Barber of Fleet Street (2007) was a ruthless bully, utterly lacking in humanity but entirely believable.
If Rickman's Sheriff of Nottingham was intentionally exaggerated, other comic performances worked on a more subtle level. He took doublespeak to new heights as the campaign manager in Bob Roberts (1992), was an insidious wine snob in Bottle Shock (2009), stole most of the scenes in Galaxy Quest (1999) and brough pathos to the voice of a robot in The Hitchhiker's Guide to the Galaxy (2005) and Absolem the Caterpillar in Alice in Wonderland (2010).
In his finest performances and in his work as director, on The Winter Guest in 1997 and last A Little Chaos in 2014, Rickman drew out the subtle nuances of human emotion. He revealed moments of pain as a husband sensing more than sibling love between his wife and brother-in-law in Close My Eyes (1991); his Machiavellian Éamon de Valera in Michael Collins (1996) was a sly beast; and his Colonel Brandon, a man brought out of the shadows by his love for Kate Winslet's Marianne Dashwood in Sense and Sensibility (1995), was a performance of subtlety, grace and quiet dignity.
Charming, ruthless, witty, reserved – Alan Rickman's body of work combined the intensity of a great actor with the charisma of a star.
Biography written by Ian Haydn Smith
---
Many thanks to our sponsors Deutsche Asset & Wealth Management