10 February 2012
Download an online copy of the Orange British Academy Film Awards Brochure.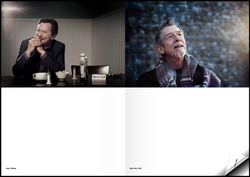 The Film Awards brochure is given to all attendees on the night and is available with five different covers, forming a collectable set. Read the brochure online and get a taste of the Film Awards experience...
Simply click on your favourite cover below and read on...
!!Watch Eda talk about her inspiration behind each cover...
The Artist

I loved this scene where the romance starts – and I couldn't leave out the dog."
The Descendants

"I used marbling textures for the mountains and sea."
Drive

"For me the concept had to be indoors, but Gosling in a car was too easy."
The Help

"I made the 50s wallpaper pattern with a floral fabric I had."
Tinker Tailor Soldier Spy

"You see the mouths and hands of different characters in the puzzle, but can't really tell who's doing what."
Eda was also asked to design the tickets for guests to the Film Awards using the BAFTA mask and ceremony as her inspiration.
Ceremony Tickets

"I really like the back of the mask because it has this atomic symbol and I thought it would be a waste not to use it."