BAFTA/Lisa Prime
BAFTA supports young people from disadvantaged backgrounds by improving soft skills important for emotional wellbeing and career progression.
In 2017 we have partnered with children's mental health charity Place2Be to take the BAFTA Kids Roadshow to 12 schools in the UK which benefit from Place2Be's mental health support work. 
Each roadshow includes a 'Behind The Scenes' assembly featuring role models from BAFTA-nominated and award-winning TV, film and games, and a TV presenting masterclass. An online learning resource based around the masterclass will be available in the coming months.
"The Q&A workshop was incredible. It was lovely to see the kids come out of their shells. Some of the children who typically wouldn't speak up and contribute in class were very brave and asked questions in front of everyone." Teacher, Mitchell Brook Primary School
To launch the partnership and celebrate Children's Mental Health Week we ran a competition for children to design a super hero that represents the power of kindness character  to be brought to life by BAFTA-winning animation studio Blue-Zoo Productions. This is the winning idea by Jasmine Wood:
The BAFTA Kids Roadshow with Place2Be has been made possible by the generous support of Michelle and Simon Orange.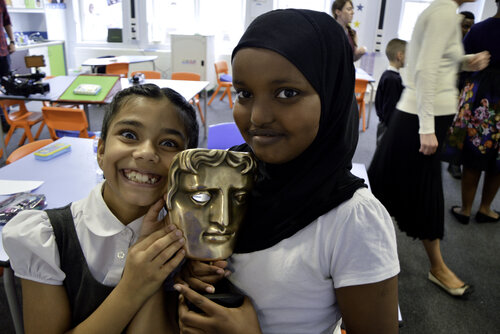 BAFTA/Lisa Prime