Film Awards Canapés
The BAFTA 195 kitchen team designs the canapés for the Film Awards each year
Our Head Chef Anton Manganaro designs a selection of delicious canapés for the occasion, using the very best fresh and seasonal British produce. 
These canapes are the perfect way to welcome your guests at an event at BAFTA 195 Piccadilly, allowing them to experience a taste of BAFTA magic.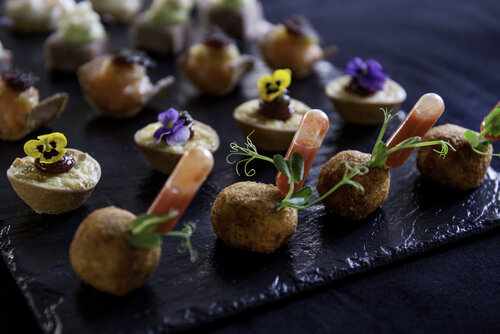 ---
See Anton's recipe for the Lincolnshire hot smoked trout on Tattie scones with crème fraîche and lemon caviar
For 8 pieces
100g smoked trout fillets, flaked
40g crème fraîche
8 miniature tattie scones
2 tbsp lemon caviar
Red cress to garnish
Tattie scone
450g Floury potatoes, peeled and cooked
120g self-raising flour
60g butter
1/2 tsp salt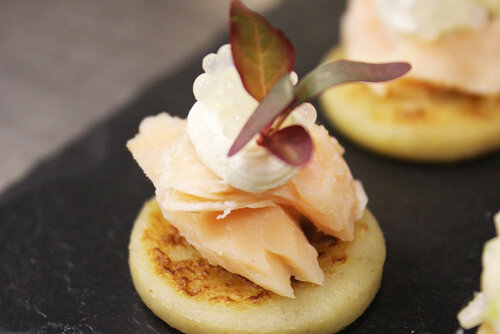 Method
1. Mash potatoes; add salt and butter and flour to form a stiff mixture
2. Turn out onto floured surface, knead lightly and roll to a thickness of 1/2cm
3. Cut into small rounds with a 3 ½ cm cutter and cook on a hot oiled griddle for 4-5 minutes on each side
To assemble canape
Place a teaspoon of the flaked trout on the tattie scone, pipe a little of the crème fraîche on top and spoon some lemon caviar on top of the crème fraiche so it sticks, then garnish with cress. Serve at room temperature.
---